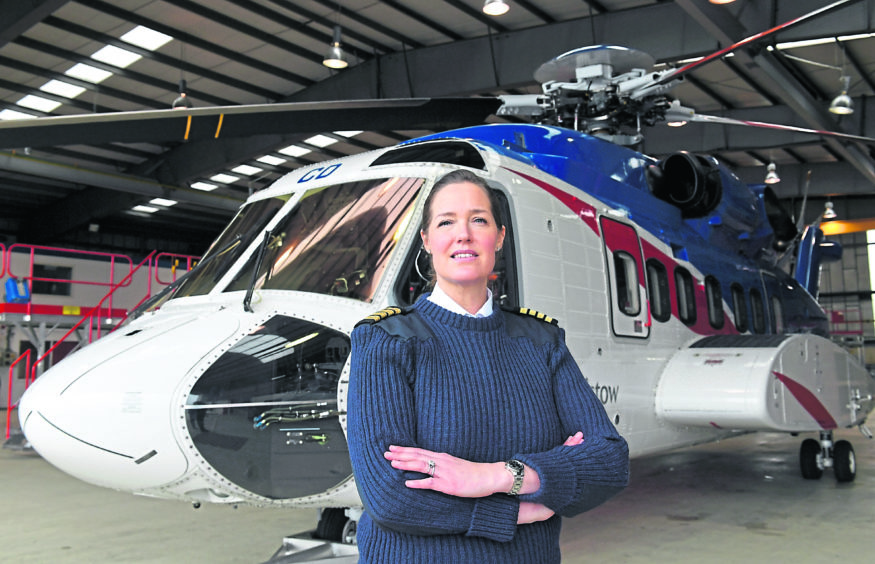 As the world slowly awakens at sun rise and commuters prepare to make the journey into the office, Christina Brun marvels at the glimmer of countryside below, before coming in to land.
Dozens of pilots are waiting on her instruction, and Christina could be called upon to transport oil workers to the North Sea.
She is eager to return to her role as chief pilot later this year, having been on maternity leave with her first baby.
She believes more women should consider a career in aviation, and hopes her story can inspire young girls to pursue a job in the competitive industry.
Out of 150 applications which Christina recently considered for pilot positions at Bristow, fewer than 10 were from women.
"I honestly don't understand why women aren't applying, and I hope I stand as proof that a successful career as a female pilot is possible," she said.
"I'm in charge of 86 pilots in Aberdeen, and I also have an eight-month-old baby.
"I didn't come from a family of pilots though, everyone was in finance or they were doctors.
"I think we have a chance, when our children are little, to change the dialogue and make youngsters realise that gender doesn't matter in becoming a pilot in the slightest.
"I read a book to my little boy, which includes a female search and rescue pilot.
"Stuff like that wasn't around when I was a child, so girls aren't considering the career in the first place.
"They just assume that it isn't the role for them, it isn't something they want to do."
Christina spent a decade working as a sales account manager, but first dreamed of becoming a pilot when she was 12 years old.
"I've always had an interest in aviation, it was actually sparked by playing golf," she said.
"I used to attend a lot of competitions, and there was a player one year who landed on the golf course.
"I remember thinking: 'Yes, that's what I want to do'.
"I started learning to fly whilst I was working, and then I completed my private licence training.
"I did all my exams through distance learning while I was working – there were 14 in total – and then achieved my commercial licence.
"After this, I decided to give up my job and focus on the commercial licence instrument rating, which you also need. It enables you to fly in the clouds using the instrumentation in the cockpit.
"Rather than using landmarks and maps, you're using the instruments and don't have to look out of the window.
"I had finally found something I really loved, and I knew I wanted to pursue my licence, even if it didn't lead to a career."
Christina joined Bristow 11 years ago, and has progressed from first officer to chief pilot.
She also spent five years working at Scatsta airport in Shetland.
"I'm responsible for all pilots, and ensuring our flights are executed safely and timely," she said.
"I can honestly say that I love what I do, because every single day is different.
"There could be changes in positions of rigs or weather changes, and all pilots also liaise with air traffic control."
Christina spends roughly 50% of her time in the air, and hopes to juggle parenting with her equally demanding job.
"It is really important for me to go back to work, because I have always loved my career," she said.
"It is not just a job to me, and I think a lot of pilots feel that way.
"It's important to me that my little boy sees me doing something I love, and I've honestly never felt held back because I'm a woman.
"I would say the main barrier can be cost, because it can be a very expensive process to learn how to fly.
"Most people either fund it themselves or via the military.
"But that's an issue whether you are male or female and, once you've passed your exams, it's an incredibly rewarding career."
Christina's husband is also a pilot with Bristow and the pair work a variety of shifts, which can range from an early start to coming home late at night.
She admits that it has been a difficult few years for the company with the recent oil downturn, and feels responsible for boosting staff morale.
"It's been challenging to keep motivation up and it has been a difficult time for many companies," said Christina. "I feel very responsible for ensuring our team feels a positive environment when they come into work.
"We've recently recruited some great people, and new blood and enthusiasm really helps uplift everyone.
"If I'm on the early shift, I get into work for around 5.45am.
"Flying at sunrise, that's a pretty special moment.
"I honestly feel invigorated, and I wouldn't change that for the world."
Recommended for you

Licence to Drill: North Sea riggers take on James Bond TV show