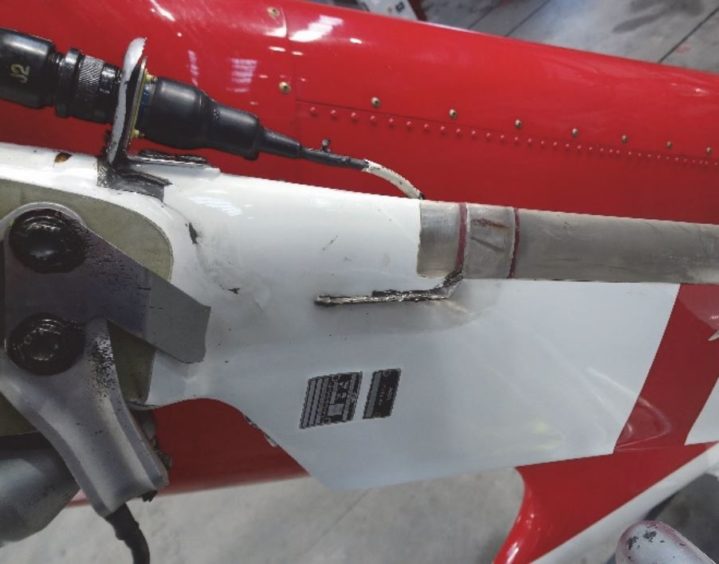 A North Sea helicopter had to return to base in Aberdeen after parts fell off during a flight, an investigation has found.
A report from the Air Accident Investigation Branch (AAIB) said the AW139 helicopter took off on May 6 last year from Aberdeen.
Crew members felt an "unusual vibration" at around 2,500 feet which was later found to be caused by a lightning protection bonding strip and cable fairing becoming detached from one of the rotor blades.
The AAIB report said the European Union Aviation Safety Agency classified the event as "not unsafe".
Four crew members were on board the Babcock Offshore helicopter, which returned to base after reaching 3,000 feet.
An inspection found the fault was due to "fatigue" in the bonding strips.
The report said requirement for detailed visual inspections of the bonding strip will be added to maintenance tasks for the model.
Manufacturing processes are also being reviewed.
Leonardo, the parent company of manufacturer Augusta Westland, has been contacted for comment.
The missing parts were not recovered.
The report stated: "Investigation by the helicopter manufacturer established that the bonding strip had failed due to fatigue and loss of the fairing was a secondary effect.
"The manufacturer concluded that the occurrence was not safety related and EASAclassified the event as 'Not-Unsafe'.
"The requirement for a Detailed Visual Inspection of the bonding strip will be added to extant maintenance tasks and the manufacturer is reviewing the manufacturing process."
RMT regional organiser Jake Molloy said workers should keep the issue in the right context.
He said: "Any report indicating that something has detached from a helicopter will obviously send alarm bells ringing in the minds of the workforce.
"But I think we need to put it into the context of what these parts actually do and how quickly and appropriately the crew has reacted, as well as the measures put in place to prevent recurrence.
"We will be following up with the manufacturer, Leonardo Helicopters.
"The boffins at AAIB produce reports like these aimed at the aviators, I don't think there is enough there briefing the bulk of people using these machines, which is the guys in the back."
His colleague, Tommy Campbell of the Unite union, added: "This report highlights the importance of regular and vigilant maintenance checks and fortunately there was no accident on this occasion.
"However this serious incident highlights yet again why we need a UK full public enquiry into helicopter safety."
A spokesman for Babcock Offshore said: "Safety is always our number one concern. This event in particular was reported to the manufacturer and the AAIB and their investigations found the aircraft was not unsafe.
"Babcock maintains our vigorous regime of inspection and maintenance that meets or exceeds the requirements laid down by industry regulators."