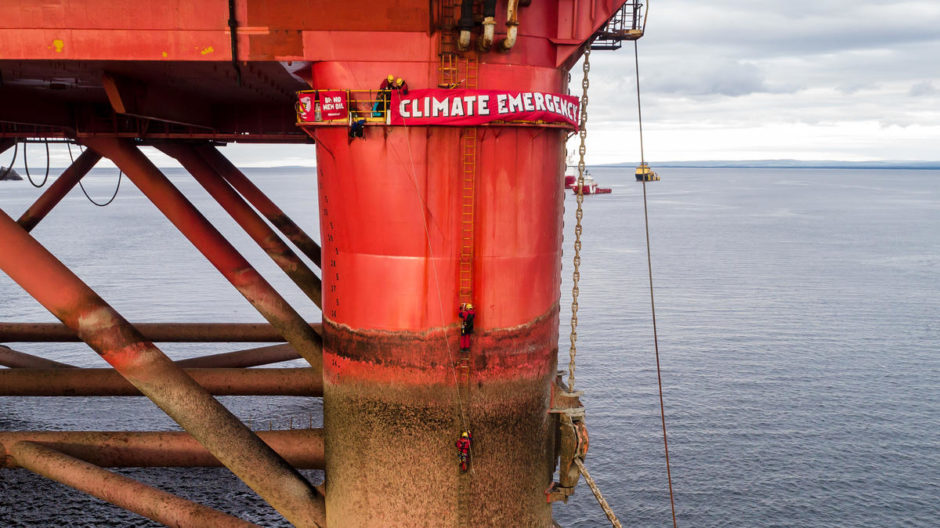 Greenpeace activists have climbed aboard a BP-contracted oil rig in the Cromarty Firth again.
The campaign group said this morning that its climbers were "determined to stay for as long as possible".
Yesterday, two protestors were removed from the Transocean-owned drilling rig following a stand-off with police lasting several hours.
About 10 people have been arrested in connection with the protest, which began on Sunday and has prevented the rig from going out to drill the Vorlich well in the North Sea.
It was thought that yesterday's arrests had brought down the curtain on the demonstration, but activists have occupied the rig once more.
A spokesman for Greenpeace said today: "BP are heading out to drill a new well giving them access to 30 million barrels of oil – something we can't afford in the middle of a climate emergency.
"We can't give up and let oil giants carry on with business as usual because that means giving up on a habitable planet and our kids' future.
"The UK government has announced a target of net zero greenhouse emissions by 2050 – we have started to enforce it."
A spokesman for Police Scotland said: "We continue to work with the operators of the installation, the Cromarty Firth Port Authority and other interested parties to achieve a safe resolution to the continuing protest in the Cromarty Firth."
A spokesman for BP said: "We continue to work with Transocean, Police Scotland and all relevant authorities to bring this reckless action by Greenpeace to a safe conclusion.
"We support debate, discussion and peaceful demonstration, but the irresponsible actions of this group are putting themselves and others unnecessarily at risk, while ignoring court orders and police action."
Recommended for you

Shell hits Greenpeace protestors on Penguins FPSO with injunction