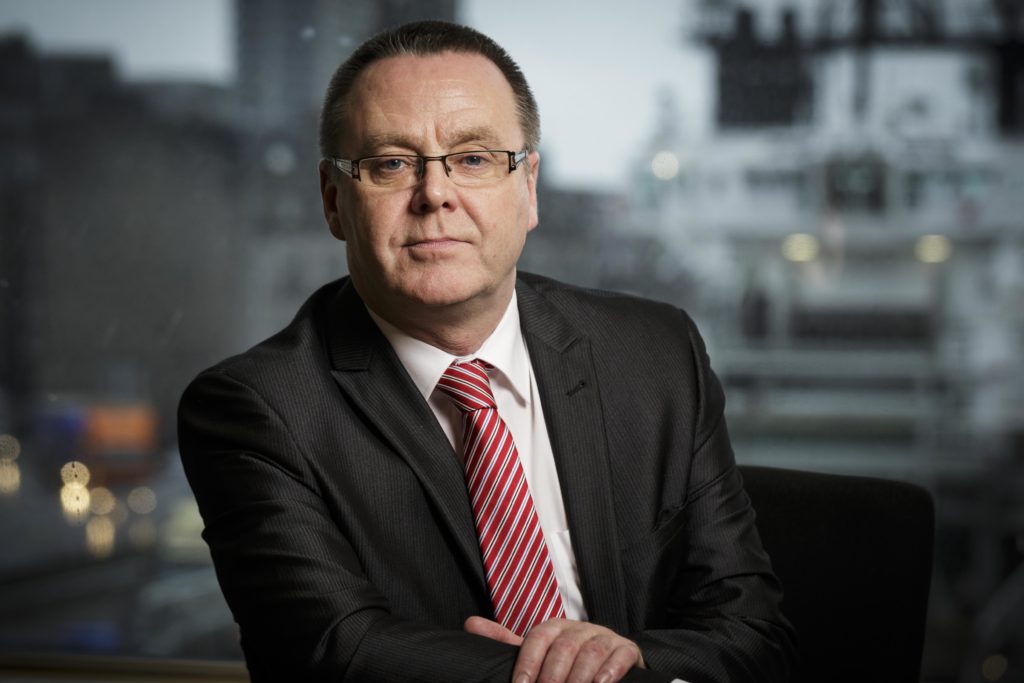 A trade union boss has urged environmental activists to "back off" and let North Sea rig workers get on with their jobs.
RMT regional organiser Jake Molloy said Greenpeace had "made its point" with its efforts to stop a rig carrying out a drilling job for BP over the last week.
He labelled the campaigners "irresponsible, blinkered and subjective" and advised the organisation to protest in countries whose emissions far outstrip the UK's.
Activists on board Greenpeace's Arctic Sunrise ship have spent much the last two days chasing the Transocean-owned Paul B Loyd Jr rig back and forth across the central North Sea.
The drilling rig appeared close to reaching BP's Vorlich field on two occasions in the last 48 hours, but had to turn back from its destination because Arctic Sunrise was blocking its path.
Vessel tracking websites showed Paul B Loyd Jr was heading in the general direction of the north-east coast yesterday evening, closely trailed by Arctic Sunrise.
The rig was prevented from leaving the Cromarty Firth between Sunday and Friday last week by a succession of activists clambering up its legs, in defiance of an injunction obtained by Transocean.
BP took out a separate injunction in an attempt to prevent Arctic Sunrise from disrupting the rig's journey.
Demonstrators tried to board the rig again on Sunday morning during transit.
Another five Greenpeace protesters appeared at Tain Sheriff Court yesterday charged with disorderly conduct and boarding an oil rig without permission.
A total of 10 people have now been charged with occupying the rig.
Greenpeace said it was determined to stop BP "wrecking the climate" by drilling new oil wells in the North Sea and urged the firm to invest only in renewable energy.
Mr Molloy said the situation was becoming "untenable for everyone involved" and that Greenpeace's attempts to re-occupy and obstruct the rig were "dangerous and irresponsible".
He stressed he supported the principle of moving to a carbon-free world, but was "bemused" that Greenpeace was making a stand in the UK, given it is not the "wort offender" when it comes to emissions.
Taking up the fight in countries which burn large amounts of coal or produce large volumes of gas from fracking would be more appropriate, he said.
"Greenpeace is not providing the most objective of arguments and is not making its case in an appropriate manner," he said.
"The drilling will be done in an environmentally friendly and regulated way, unlike in other parts of the world where the regulations are not as stringent.
"There are lots of important aspects Greenpeace is failing to acknowledge. It's time they backed off. They've made their point.
"They should go and try to make an impact where it will really have an impact."
Mr Molloy does not feel the pursuit poses a safety risk to the rig workers.
But the longer the standoff persists, the greater the likelihood of rig crews being stood down and left out of pocket, he claimed.
A spokesman for BP blasted Greenpeace protestors for their "reckless" attempts to interfere with the rig while at sea.
The spokesman added: "There is a clear and blatant breach of criminal law and the court orders in place against both Greenpeace and their vessel.
"Greenpeace is choosing to wilfully break the law."
Police reiterated that they were aware of Greenpeace's activities and were liaising with BP, Transocean and the coastguard.
At Tain Sheriff Court yesterday, Leanne Kitchin, 42, Darren Payne, 40, both of Duchy Drive, Paignton; Aligi Fois, 33, of Massie Road, London; Meena Rajput, 39, of Spencer Road, London; and Andrew McParland, 52, of The Greenway, Epson, denied behaving in a disorderly manner and breaching the peace by boarding the rig without permission.
Recommended for you

'Dangerous and damaging': Six-tonne North Sea oil spill in marine area