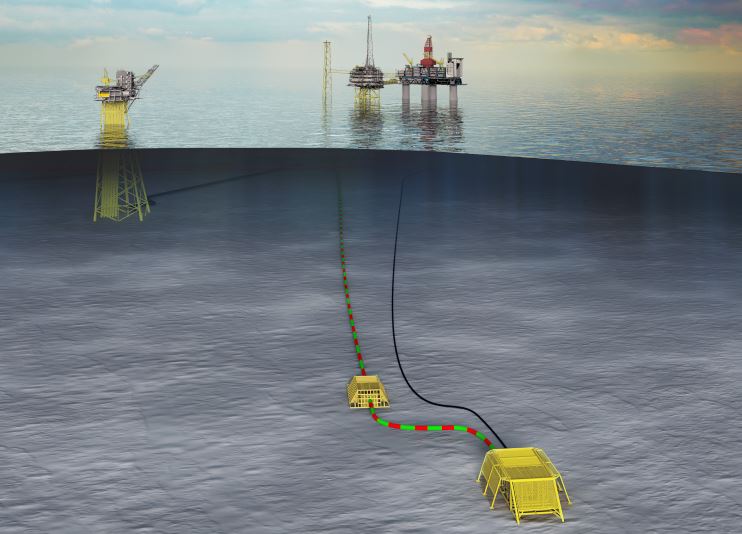 Equinor is expecting production to begin in September for the first of its cross-border fields in the North Sea.
Utgard in the Central North Sea straddles the median line between the UK and Norway, targeting 56million barrels of oil equivalent.
Production from wells on both sides of the border is being tied back to the Sleipner field in Norway, around 13 miles to the west of Utgard.
The field was first discovered in 1982, with Equinor finally submitting a field development plan in 2016.
Improved technology and field economics helped get the discovery over the line, but UK boss Hedda Felin said a crucial element was approaching the field from both sides of the median line.
She said: "It was the first project where we managed to test out this one North Sea approach, taking away the median line.
"It has been interesting how both the UK and Norway have evaluated their basin up to the median line and then it stops.
"Then we have said 'Ok, we're now on both sides of the median line, what kind of advantages does that bring?' If we were to remove the median line and let both the geologists and project teams work together on what is possible.
"We found several assets were actually not developed on the UK side, with a long distance to infrastructure on the UK side, but they were close to infrastructure on the Norwegian side.
"So in light of the MER challenge we've been given by the OGA, they are really happy that we can take those barrels up that have not been developed and we have infrastructure that really needs barrels so it's a pure win-win situation."
The Deepsea Atlantic rig spudded the first well back in October and Utgard is due to be delivered below budget.
Equinor is also seeking to develop other cross-border prospects such as Barnacle, which is thought to hold up to 2.6million barrels and will be tied-back to the nearby Statfjord B platform.
It is also looking at a redevelopment of the Frigg field, which was decommissioned in 2010.
Ms Felin added: "Utgard has been delivered ahead of time and below cost estimates, so it is good to show that we can do that. Start-up is estimated to be around September.
"That's the first one and from there on we have several other similar opportunities such as Frigg and Barnacle where we can work on both sides of the median line."
Recommended for you

Can oil ever be green? Norway turns to wind-powered drilling