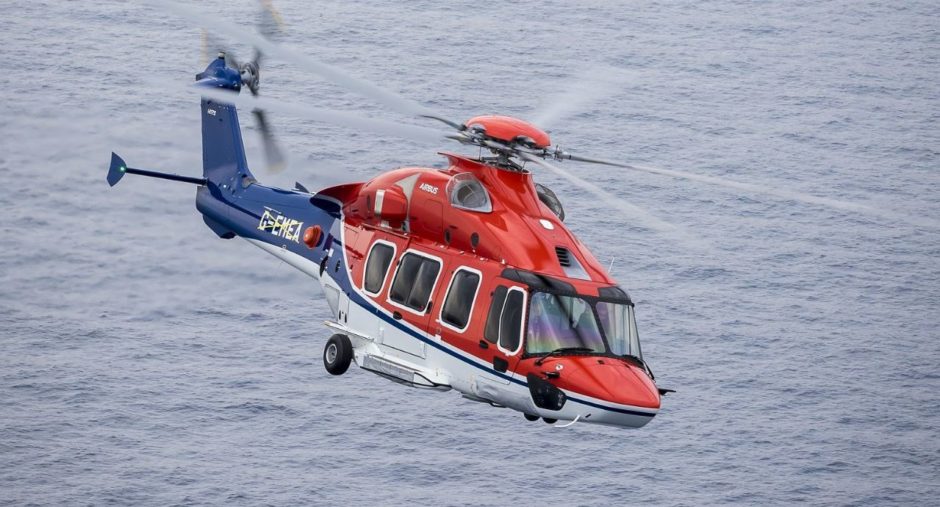 Investigators have said engineers' "lack of experience and fatigue" contributed to the collapse of a North Sea helicopter's landing gear.
A CHC-operated H175 was coming in to land in Aberdeen last July when crew heard a "crunching noise" and the helicopter nose appeared to dip, while inspection teams on the ground saw parts of the nose landing gear hanging off the helicopter.
Passengers then disembarked the helicopter at a low hover, and the aircraft landed safely on sandbags.
The Air Accident Investigation Branch (AAIB) found a maintenance task, carried out 50 hours beforehand, had not been correctly completed, with a key component not being replaced.
It found that the engineer supervising the task had only two days' rest over a 31-day period which had "not been identified by shift managers".
A report into the incident also found the engineer was supervising a ream of non-type related engineers who had never completed the task before.
Investigators said both of these factors could have contributed to the failure of the engineering team to replace the component.
Operator CHC said it welcomes the report and that it took a number of measures to reinforce procedures immediately after the incident, which included revision of shift monitoring and fatigue prevention.
RMT regional organiser Jake Molloy said workers should take comfort that the issues have been addressed but described the potential consequences as "unthinkable"
He said: "We shouldn't be putting workers in this type of position where they are doing excessive hours.
"31 days, especially in a major accident hazard environment like helicopter operations, is unacceptable.
"If it wasn't for the quick reaction of the pilots when the nose dipped and they heard a crunching noise, the consequences are unthinkable.
"The potential for the rotor shattering and all the consequences that brings about is staggering."
The report states that "at least two other operators" had experienced similar events, which led to manufacturer Airbus issuing safety bulletins to improve maintenance procedures and requiring inspections of the landing gear.
AAIB's report comes just a month after a crack was found in the stabiliser of another H175 helicopter, operated by Babcock.
The "isolated" case led to a temporary halt in H175 operations by fellow operator NHV as a precaution.
Around eight of the 70 helicopters active in the North Sea are H175s, according to industry body Oil and Gas UK's most recent health and safety report.
A spokesman for CHC said: "Immediately after the incident, we introduced a number of measures to reinforce existing procedures. We are confident that these actions strengthen our compliance monitoring and continue to underpin the safety and airworthiness of the Airbus H175 and our helicopter fleet."
Another spokesman for manufacturer Airbus said it took immediate action to ensure no other aircraft were affected and issued renewed maintenance guidance to ensure the relevant tasks are carried out correctly.