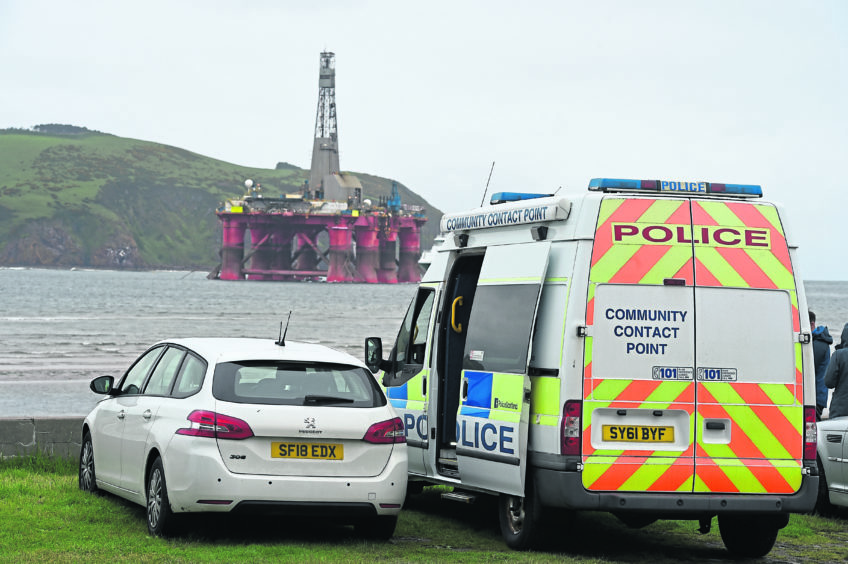 A recent North Sea protest row that erupted between BP and Greenpeace cost the taxpayer nearly £140,000 due to Police Scotland clocking up hundreds of hours of overtime.
The stand-off, involving the environmental activist group blocking the progress of a
BP-contracted rig, lasted 12 days.
Police were called on the evening of June 10 when it was discovered campaigners had commandeered the Paul B Loyd Jnr rig as it tried to leave the Cromarty Firth.
Boats and helicopters were brought in over a number of days as Highland police and specially-trained staff attempted to deal with the situation.
Officers and Police Scotland staff worked nearly 2,000 hours of overtime during the occupation.
Director of Greenpeace, John Sauven, said that last month's action against BP was caused by the energy giant's "failure to get a grip of their impact on the climate emergency".
He urged BP to switch from oil and gas to renewable energy, but added that the firm "remain determined to plough on with a climate wrecking path".
Following the rig's departure from the Cromarty Firth, Greenpeace's Arctic Sunrise vessel blocked the rig in the North Sea with more than 90 workers on board.
Police Scotland made a number of arrests during the 12-day stand-off.
BP and Oil and Gas UK refused to comment on the £140,000 sum relating to overtime and staffing.
Chief superintendent George Macdonald described the situation as an "extremely challenging and complex situation" that required "local officers from Highlands and islands and north-east divisions, as well as highly-trained officers with various specialisms from across Police Scotland".
He added that the "police response was carefully considered and planned with a range of partners to ensure a safe conclusion was reached".
Liberal Democrat MP for the region, Jamie Stone, described Greenpeace's actions as a "stunt", which "served merely to irritate".
He added that the protest action had "cost the public purse far too much".
Environmental groups also hit out at yesterday's decision by a North Sea regulator to release 768 new exploration areas in the basin.
WWF Scotland described the move by the Oil and Gas Authority as "irresponsible and dangerous".
A Scottish Government spokeswoman said that "both the Scottish Government and Police Scotland support the public's right to peaceful protests that are conducted within the law".
Recommended for you

BP trial hears Unity oil worker had one hour left on shift