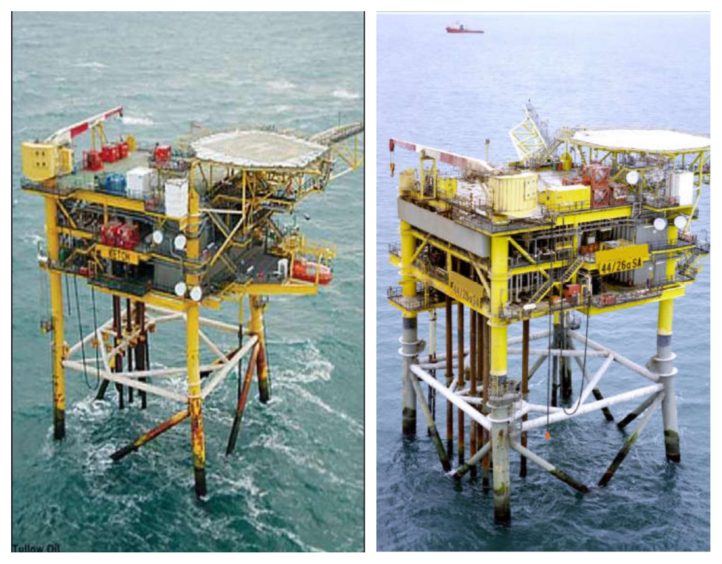 Plans have been submitted which could see a first for the UK North Sea for oil platforms being converted to support offshore wind farms.
DNO, which took over Aberdeen-based Faroe Petroleum earlier this year, has received government approval to decommission its Ketch and Schooner platforms.
Within the plans, the Norwegian firm stated it is in discussions with "an offshore wind farm company" about the possibility of converting the platforms into support and accommodation facilities for workers at wind projects.
It is thought this would be the first time oil platforms have been reused for this in the UK sector.
The documents highlight that the topsides of both platforms will either repurposed to support wind farm projects or be completely removed or recycled.
A decision is expected to be made next year at which point DNO will inform the regulator Opred and vary the plan to show the final option.
According to the document, the decommissioning process is currently underway, with it expected to be completed by the first quarter of 2025.
Decommissioning manager at industry body Oil and Gas UK, Joe Leask, said: "It is great to see that DNO have included an option for re-purposing the topsides and jackets for their continued use as supporting facilities for an offshore wind farm.
"There is an important network of infrastructure installed in UK waters by the oil and gas industry.
"Finding ways to re-purpose infrastructure is always a primary consideration and this shows how UK operators are taking the initiative to explore continued use in support of low carbon industries."
The plans were first tabled in December by previous operator Faroe Petroleum, headquartered in Aberdeen.
RenewableUK's head of external affairs, Luke Clark, said: "This innovative proposal is a great example of how the transition from fossil fuels to renewables could offer opportunities to use infrastructure originally installed by the oil and gas sector in new ways to support offshore wind.
"We are looking for safe, cost-effective and practical solutions which will help us to build offshore wind farms further out to sea and in deeper waters.
"So proposals like this need to be to examined carefully to see if offshore wind can give a new lease of life to structures which would otherwise have been decommissioned."
The pipelines will be trenched and buried in situ while subsea mattresses will be recovered to shore for reuse or disposal.
Wells will be plugged and abandoned, along with a complete removal and recycling of the wellheads at Schooner.
The Ketch and Schooner assets, which are normally unmanned, lie 100miles and 80miles respectively from the nearest landfall at Easington on the Yorkshire coast.
Since the plans were first submitted, Faroe Petroleum was acquired by DNO North Sea in January for £641.7million.
Recommended for you

Rosebank approval was 'litmus test' for UK offshore sector