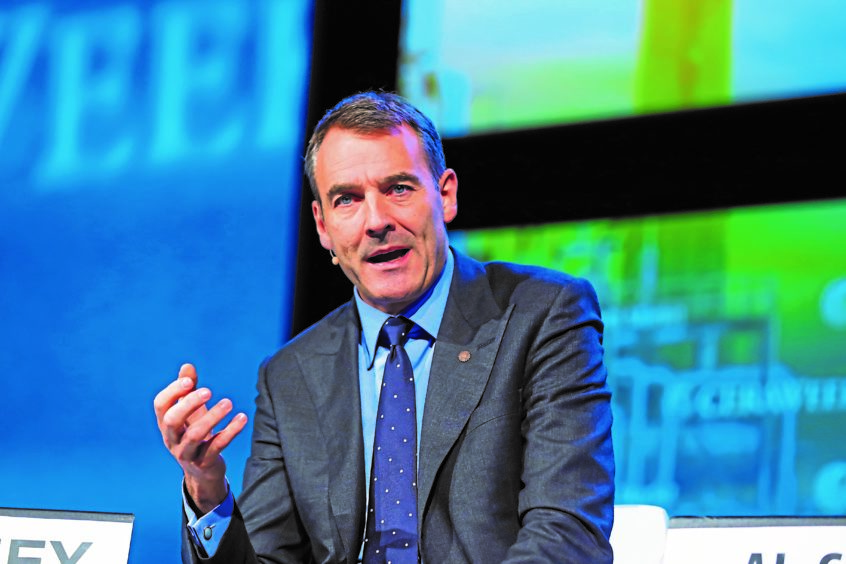 Mental health is a "massive issue" that's close to Bernard Looney's heart and one that he feels a "great responsibility" to talk about.
Mr Looney, chief executive of BP's upstream division, said he had done a lot of work to remove the stigma attached to mental ill health and get people talking at the energy major.
The Irishman, whose father suffered from depression, would like to see the company and wider industry do more to tackle the problem.
He recalls that during a dinner with the leadership team in Aberdeen a couple of years ago he spoke to a colleague who revealed she was going through a difficult time.
The person confided that her own father was afflicted by depression after he retired.
Mr Looney felt compelled to tell his story. "The following day I gave a townhall on various things happening inside the company," he said.
"For some reason I decided to talk about the subject of mental health and my own experience.
"The response I got was quite frankly extraordinary, not because of how well the story was told, but because there was so much desire inside the company to talk about it and share stories. Since then I've been doing quite a bit in this space."
Mr Looney is passionate about the subject and feels change needs to be driven from the top, rather than leaving it to human resources and health departments.
"The first thing we need to do is make it OK to talk about – end the stigma and make it a leadership act," he said.
Mr Looney, who grew up on a farm in County Kerry, has posted several messages about mental health on BP's internal communication network, each of which were read by thousands of people within the business.
He was one of a number of people at the company to share their "powerful" experiences in a video intended to address people's reluctance to open up.
BP has also been conducting surveys across the world to understand where the company might have "mental health hotspots" – areas that might need support and intervention.
The firm is "doing a lot around counselling" too.
BP wants to "get ahead of the problem", but when counselling is required, the company has a consolidated, global employee assistance programme (EAP).
Mr Looney admitted that, at first, he was not convinced such an initiative would be particularly helpful.
That changed when Tony Brock, BP Exploration's head of safety and operational risk, told Mr Looney how powerful the EAP was.
Mr Looney said he was "struck" by the feedback from Mr Brock, who he described as a "big block of a man".
"He found it to be brilliant and I asked if he would talk about it publicly and he does," Mr Looney said.
BP monitors usage rates for the EAP and wants to see them go up, such is the importance he places on the subject.
He said everyone is dealing with "something" – some aspect of their life that is stressful, whether that's physical illness, money problems, or troublesome kids, for example.
"I'm very passionate about the subject and I would love to see us and the industry do more," he said.
Mr Looney joined BP in 1991 as a drilling engineer, working in the North Sea, before moving on to have stints in Vietnam and the Gulf of Mexico.
In 2005 he became senior vice-president for BP Alaska, a business for which a buyer was found just last week in the shape of Hilcorp.
He returned to Aberdeen in 2009 to run the major's North Sea business and still has great memories of the Granite City.
Mr Looney spoke of his "deep respect" for the north-east's supply chain, which has capabilities that you "don't see everywhere".
One of the "formative experiences" of Mr Looney's career came during his stint as North Sea boss, when in April 2009, 16 people died when a Super Puma helicopter crashed on its way from BP's Miller platform to Aberdeen Airport.
He said the tragedy taught the company a "huge amount" about helicopter safety.
Mr Looney returns to Aberdeen perhaps only once a year, partly because he has a lot of regions to visit, but also because current North Sea boss Ariel Flores is doing a "fantastic job".
"I do not go there that often, because we do not have that many issues there," Mr Looney said.
BP's UK business has reduced its costs by 40-50% in the last few years and is steadily improving efficiency.
Mr Looney said the North Sea stacked up well and could compete with the rest of BP's portfolio for investment.
He said the UK Government should be "complimented for bringing some stability and creativity to the fiscal regime"
and hailed the Oil and Gas Authority for its "excellent work" in recent years.
Mr Looney did say, however, that the basin "can't rest on its laurels" – if it wants investment, it needs to have resources available for extraction.
BP achieved two significant first oil milestones as operator in the UK in the last few years, at Quad 204 and Clair Ridge, both west of Shetland.
The London-headquartered firm is on course to bring two more projects on stream next year.
Offshore installation work was ongoing in July and August to prepare for start-up of the
Alligin field, west of Shetland.
BP and partners committed to investing £230 million on the 20m barrel project, which will produce from two wells tied back to the Glen Lyon floating production storage offload (FPSO) vessel, installed for Quad 204.
And drilling work belatedly started in July on the 30m barrel Vorlich field in the central North Sea.
Vorlich, with a £200m sticker price, will be tied back to the FPF-1 platform on Ithaca Energy's Stella field.
Drilling would have started a couple of weeks earlier but for the interference of climate change activists, who prevented the Transocean Paul B Loyd Jnr rig from exiting Cromarty Firth by climbing up its legs.
Greenpeace's Arctic Sunrise ship then proceeded to chase the rig across the North Sea for several days before backing down.
Mr Looney holds no grudges: "We are aligned with what the protestors want and are supportive.
"But we are not supportive of people who put their lives and the lives of others at risk. We draw the line there."
Mr Looney said the "direction of travel" is very clear when it comes to the energy transitions – "it's real, it's happening and it's accelerating".
"We're all living in that same world," he said. "There's no conflict between what the wider world wants and what BP wants.
"We support the Paris agreement and we believe in the energy transition and net zero.
"We want the transition to happen quickly. We don't want it to take forever. That would not be good for society.
"But to reach Paris will take all forms of energy. Oil and gas, in any scenario, will be part of the energy transition story for many decades."
Mr Looney is confident that the company is taking "tangible" action to address the problem.
BP's board and more than 99% of shareholders supported a resolution at this year's AGM in Aberdeen calling for the company to show how its strategy fits in with the Paris goals.
The firm has set a target of cutting its greenhouse gas emissions by 3.5 million tonnes by 2025 and while keeping its "methane intensity" below 0.2%.
The bonuses of 36,000 employees at BP are linked to the achievement of emissions reduction targets.
BP has also created a £75m fund for projects aimed at lowering emissions from its upstream activities.
In 2017, BP agreed to invest more than £150m over three years in exchange for 43% of solar firm Lightsource. It also bought the UK's largest EV charging company, Chargemaster.
In the UK North Sea, emissions from the ETAP development have been reduced by 11,000 tonnes per year, a "fantastic" accomplishment. Mr Looney said the feat was achieved by connecting a produced-water reinjection system, bypassing the seawater injection pumps and reducing the load on the facility.
BP's North Sea team is also looking at an "exciting, transformational concept" for Clair South – the third phase of the giant Clair field.
Mr Looney said Clair South would be "quite different from the way things have been done traditionally", reflecting an awareness of the energy transition and how BP reduces its environmental impact.
BP is also "having a look" at Capercaillie, discovered in the central North Sea early last year.
Recommended for you

HSE's Chris Flint to retire next year as new director of energy division named