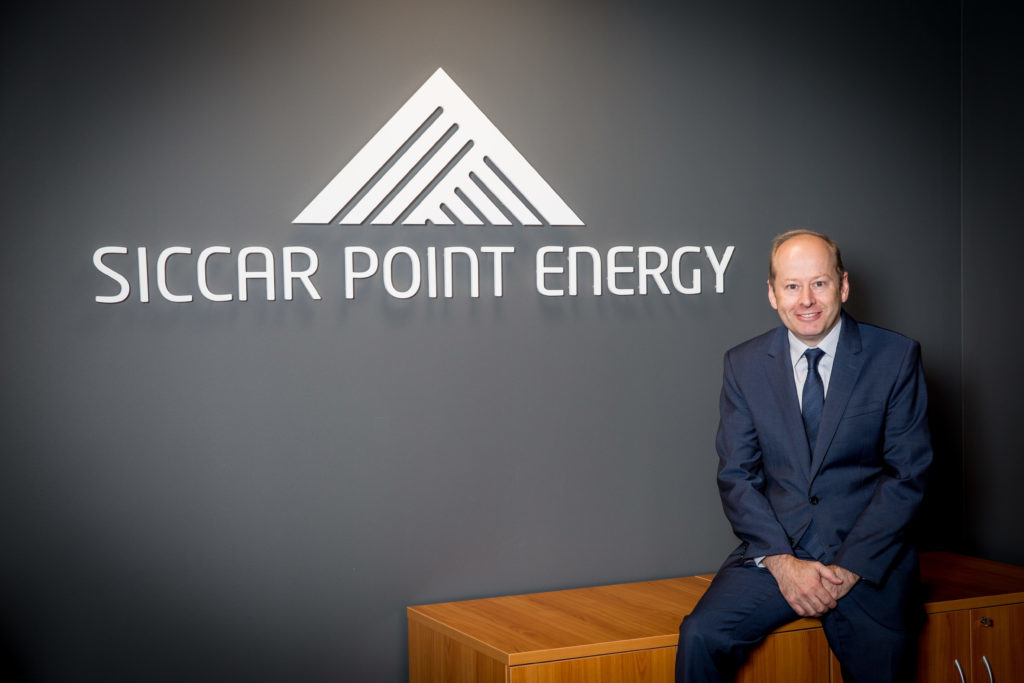 The design for the Cambo field, west of Shetland, will take some of the sting out of a problem that has "held back" production from the area for decades, an oil company chief said.
Jonathan Roger, chief executive of Siccar Point Energy, said "getting the gas away" to shore was one of the "big challenges" on that frontier.
The export line that his company is designing alongside licence partner Shell and the contractor community could also provide an option for other nearby resources, including the 300 million barrel Rosebank field.
Siccar Point recently revealed it had picked Sembcorp – whose yards in Singapore were used for constructing the Culzean platforms and floating storage unit – for the Cambo FPSO build.
It will be of a cylindrical design, similar to the vessels booked for Shell's Penguins field in the Northern North Sea, and the existing one at Dana's Western Isles project.
Mr Roger said a "Sevan" FPSO was the logical choice for Cambo, for which the estimated oil-in-place figure keeps rising – to 900 million barrels at the latest count, up from 800m previously.
Siccar reckons 35% of the reserves can be recovered, he revealed, adding that the vessel would need to put in 20-30 years of service.
He said Sevans were more cost-effective than conventional FPSOs, were "very stable facilities" and were, therefore, suited to the rough west of Shetland environment.
The field will initially have two subsea drill centres, with nine production wells and four for injection.
Phase one will target around 150m barrels, with future phases "slotting in behind to keep plateau up".
Mr Roger said all front end engineering and design activity should be wrapped up by the end of year, allowing a final investment decision (FID) to be made "as early as possible" in 2020.
CRUCIAL EXPORT LINE
The FPSO will have caught most people's eye, but those familiar with the specifics of west of Shetland will also have noted the design work being conducted with Genesis for a new gas export pipeline.
Getting this piece of the infrastructure puzzle right could have wide-ranging consequences.
Earlier this week, Kevin Swann, analyst at Wood Mackenzie, said Cambo and Rosebank would need an export solution in the region.
Hurricane's Lancaster field will also require some thought if it progresses from to a full-scale development. The cargo from its early production system is currently being lifted by shuttle tanker.
Mr Swann said the gas export line conundrum was on the Oil and Gas Authority's radar, which Siccar Point's boss confirmed.
Mr Roger said Siccar Point was involved in two work groups with the regulator and other operators with interests in the region.
They are mulling ways of fixing the gas infrastructure snag in the areas to the north and west of Shetland.
Mr Roger said Siccar Point would look to tie the new gas export line for Cambo into the existing West of Shetland Pipeline System (WOSPs), which runs to the Sullom Voe terminal and serves a number of BP's fields, including Clair.
Not only could that solution work for Cambo, it could also serve a number of other discoveries operated by Siccar Point, including Tornado and Suilven.
Combined, Tornado and Suilven contain recoverable resources of around 90 million barrels, and there is "exciting exploration potential beside them" that could further extend Siccar's resources.
Mr Roger said both fields would have been developed "long ago" had they been "anywhere else" on the UK Continental Shelf, but the lack of infrastructure west of Shetland was a barrier.
He said: "If you look west of Shetland, we're there, Hurricane is there, we've got Suilven and Tornado, and there is Rosebank as well. They need gas offtake.
"There is a lot of gas activity. It's primarily associated gas, but there are some discoveries there, and exploration potential too, so having a plan makes a lot of sense.
"We're looking to tie into WOSPs and are designing a line size that is big enough for Cambo, Suilven and Tornado, and potentially could take Rosebank.
"We're looking to design it to keep good options open in the region."
EXPLORATION SETBACKS
Siccar Point's positive news at Cambo followed disappointment at the Lyon prospect – north-west of Shetland – which was shown to be non-commercial.
The company, and partner Ineos, had hoped for between 1-3trillion cubic feet of gas and to use Lyon as a hub for nearby discoveries such as Tobermory, Bunnehaven and Cragganmore.
Woodmac's Mr Swann did suggest Cragganmore, operated by Cnooc, could provide some "surprising big news" when the results come in for an appraisal well which spudded in July.
Little information has been released on the potential resources at Cragganmore, but Mr Swann said it was bigger than many people thought.
Cragganmore could "renew confidence" in the concept of a Northern Gas Hub, Mr Swann said.
Siccar Point's other recent exploration well came at Blackrock earlier this year.
Announcing the outcome in May, Mr Roger said he was "very encouraged".
Partner Shell said the results were "disappointing" because Blackrock was non-commercial, though a lot of very helpful data had been found.
Mr Roger said Blackrock was a "hugely important well for the region".
It was the first exploration well to be drilled on the Corona Ridge between Cambo and Rosebank.
Mr Roger said: "Blackrock had nearly all elements we were looking for. The one thing it didn't have was thick, oil-bearing sandstones at that specific location.
"But oil samples taken from it are same oil that's in Rosebank and it's the same oil that's in the very deep Cambo reservoir. So there is an interconnected hydrocarbon system right across the ridge.
"We also know the thick Rosebank sand has come from somewhere up that Corona Ridge area, so we know there are thicker sands on Corona, it's just about locating them.
"The next step is probably a seismic shoot next year. The seismic on Blackrock is not the same quality as Cambo. That will help us pinpoint where we think the thicker sands are located. We would then follow up with an exploration or appraisal well, probably in 2021."
ROSEBANK COSTS
The future of Rosebank – in which Siccar Point holds a 20% stake – always generates a lot of interest among UK offshore oil enthusiasts, due to its size and complexity.
Equinor took over as operator from Chevron earlier this year and set a new timeline for Rosebank in an effort to buy time and make big cost savings.
Before Equinor took up the reins, analysts at Woodmac said Rosebank would cost about £4.5 billion and require a floating production, offloading and storage vessel, and up to 20 production wells.
The Norwegian major thinks it can deliver oil from Rosebank much more cheaply by modelling the project after its Johan Castberg development in the Barents Sea.
Johan Castberg will be served by an FPSO, currently under construction at Kvaerner's yard in Stord, Norway, and a large subsea system.
Equinor said the design it eventually opted for on Johan Castberg was half as expensive as the original plan.
Mr Roger said Chevron's vision for Rosebank was economic and would have been supported by the partners – the other one being Canadian firm Suncor.
He said: "Rosebank was a good project to invest in, but Equinor sees opportunities to make it significantly better, which we agree with.
"They are looking at significant cost savings over the Chevron plan, driven through number of ways, such as a more appropriate FPSO design based on Johan Castberg, and moving to industry standards, away from Chevron bespoke standards.
"So Equinor is looking to take a lot of cost out of the project. When that comes back in early 2022, when we anticipate sanction, it will look better than it did before, so that's a big focus."
It's clear that the waters off Shetland will remain a core growth area for Siccar Point.
You can bet the firm will be active in the 32nd licensing round, which closes on November 12.