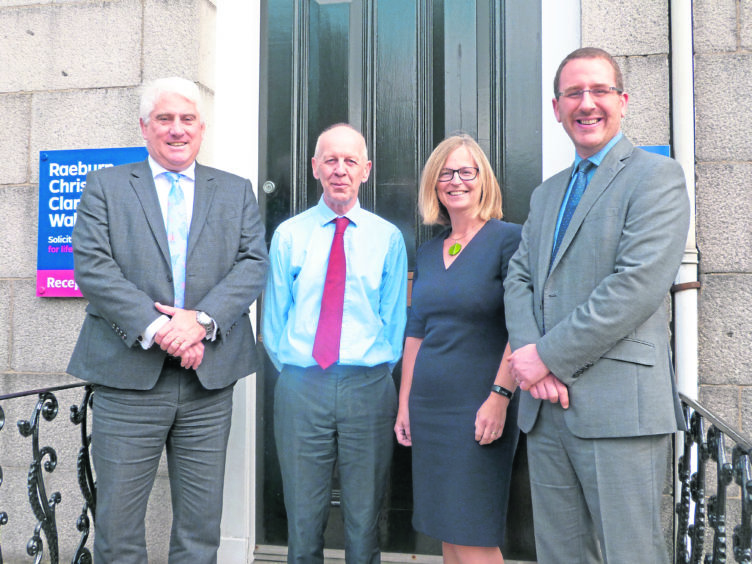 Raeburn Christie Clark & Wallace (RCCW) has announced the retirement of partner Stewart Smith after nearly three decades with the law firm.
Mr Smith qualified as a solicitor in 1981, having studied law at Aberdeen University. He joined Raeburn Christie, which later merged with fellow Aberdeen firm Clark & Wallace to form RCCW, in 1990.
One of his early assignments for the business was to represent the relatives of some of those killed in the 1988 Piper Alpha disaster, which claimed the lives of 167 offshore workers. He was also involved in one of the first cases in Scotland where compensation was paid for workplace stress.
Raeburn Christie partner of the year in 1991, he worked on all types of litigation cases, including major offshore disputes in the early 1990s, before specialising in personal injury and medical negligence claims, housing disputes and insolvency matters.
Mr Smith passed on some of his experience to the next generation of solicitors through his role as a tutor in civil advocacy at Aberdeen University.
He also played a key role in the university's innovative course for recently qualified solicitors.
Daughter Kirsten Dunford has followed in her father's footsteps by pursuing a career at RCCW, while his two sons – Martin and Steven – live and work in London.
Mr Smith said he aimed to spend more time with wife Fiona and their two-and-a-half-year- old granddaughter Olivia, in his retirement.
He will continue to devote time to Aberdeen FC – he is a Pittodrie season ticket holder – and maintain a keen interest in music, playing the piano and attending concerts. He will also work on improving his golf handicap.
"It has been a pleasure working for one of Aberdeen's leading law firms for such a substantial part of my career," he said.
He added: I have thoroughly enjoyed my last 30 years with the company, and performing as part of the office band at the annual Christmas party remains a personal highlight."
RCCW managing partner Callum McDonald said: "We are extremely grateful to Stewart for his hard work and diligence. Over his 30 years with the firm he has established himself as a greatly respected partner, terrific lawyer and great colleague to all."
Recommended for you

A year of films, documentaries and TV for the North Sea