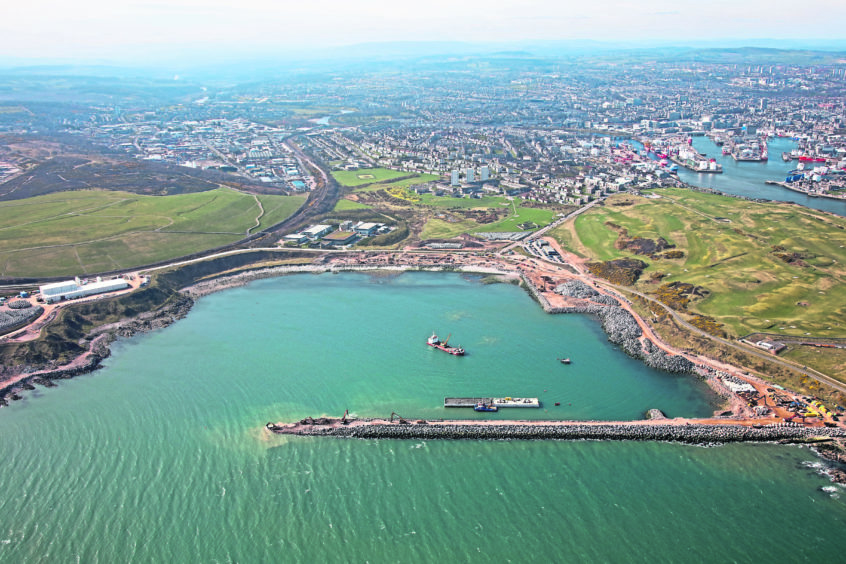 Aberdeen harbour bosses have said "further investigation" would be needed before it could become a free port as suggested by Boris Johnson.
The prime minister revealed earlier this year he was considering giving free port status – which opens up trade opportunities – to Peterhead or Aberdeen harbours.
Senior politicians, including Aberdeen South MP Ross Thomson and the city's Lord Provost Barney Crockett, have come out as supporters of giving the status to the Granite City.
But last night a spokeswoman for the harbour board – which is a trust port and runs its own affairs – said that they would need to know the model that would be used.
The city's harbour is currently in the midst of a massive £350million expansion which is aimed to allow for massive cruise liners to visit.
And senior sources connected to the harbour said the Aberdeen authority would struggle to buy more land to build factories on to process the goods if it was given the status.
Another added that given the city's port was an already successful oil and gas base there would be "no advantage" to getting being named a free port.
A spokeswoman for the harbour said: "We're always open to new opportunities that could benefit the local economy and the businesses we serve.
"The success of a free port depends very much on the model used and the operating environment. We definitely want to be a part of that conversation, but further investigation is needed to assess whether a free port here would be right for the city region.
"In the meantime, we'll keep talking to public bodies and business organisations on what the potential for Aberdeen could be."
North-east Labour MSP Lewis Macdonald said: "We need to see more effort from government to promote economic activity through trade across the north-east.
"The main thing that needs to be concentrated on to achieve this is by securing a deal with the EU.
"Instead of whistling in the wind about tax free status, the government should be putting in all its efforts in securing a deal.
"The evidence is that these ports simply move trade from one town to another."
But Conservative Mr Thomson said: "The UK Government has proposed establishing up to 10 free ports around the country.
"A free ports advisory panel including international experts in the field is now looking in detail at the plans.
"I want Aberdeen to be at the front of the queue as there is a huge economic opportunity to be seized.
"Meetings that I have had with harbour and local council representatives have been very positive and I will continue to make the case for the north-east to benefit from this."
Peterhead harbour did not respond to requests for comment.
Aberdeen Central SNP MSP Kevin Stewart said: "Aberdeen Harbour Board exists as a trust port and has always operated with complete independence yet we haven't yet been told why 900 years of history should be cast aside in order to create a free port.
"Ross Thomson should have been sitting down with the Harbour Board and making sure they were on side with his plans, or at least knew what they were. Instead he's been talking into an echo-chamber of conservative politicians, colluding on how best to distract from the disastrous impact that a hard Brexit will have on Aberdeen.
"Even if the free port plan ever comes to fruition, it would only act as a mere sticking plaster to the economic damage inflicted upon our city by Brexit."
Recommended for you

Port of Aberdeen hits 100 vessel milestone for offshore wind