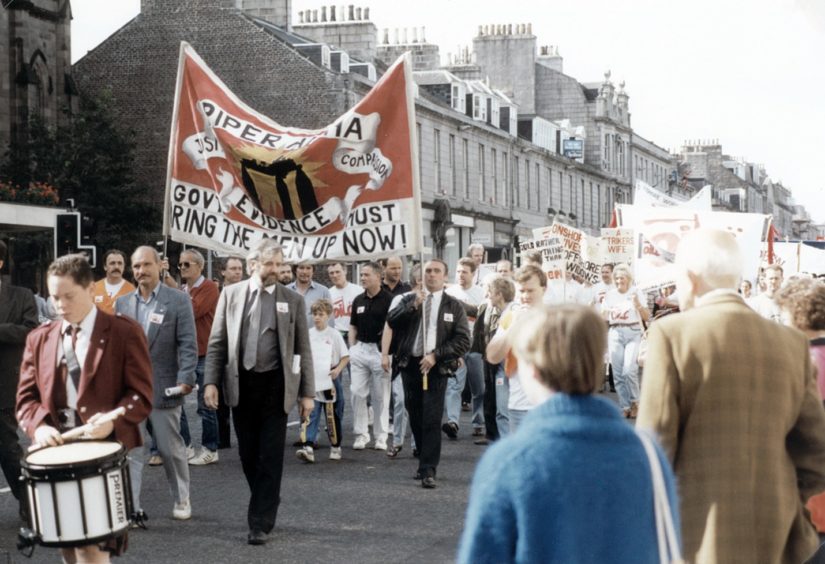 A series of accidents and fatal events in the North Sea were catalysts for the formation of the Offshore Industry Liaison Committee (Oilc) 30 years ago.
In the months preceding it, 167 men lost their lives in the Piper Alpha disaster – an incident which still reverberates through the sector to this day.
Just a day prior to Piper was a gas explosion on the Brent Alpha platform, and two months following it was a fatal gas blowout on the Ocean Odyssey rig which cost the life of a 25-year-old man.
Then on New Year's Day 1989 there was another gas explosion, this time on the Brent Delta platform.
All of these led to the formation of Oilc in 1989, a group to bring unions together to improve health and safety standards, becoming a union itself years later.
Many of those who would come to form its membership were involved in protests in Aberdeen early in 1989 outside the inquiry centre into Piper Alpha.
They brought banners urging the government to "bring the men up now" for the 30 bodies that had not been -and never were – recovered from the North Sea.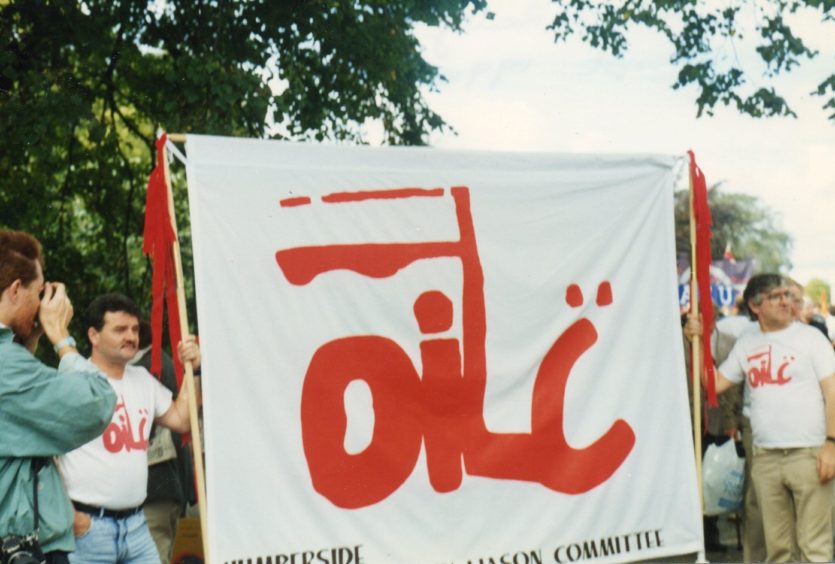 Oilc was established on July 6, 1989, with thousands of workers downing tools to mark the first anniversary of Piper Alpha with a series of unofficial strikes across the North Sea.
Twenty years later the group would be merged into the RMT union as its dedicated offshore branch.
Regional officer Jake Molloy, who was involved in those first sittings for Oilc, reflected on the first 30 years.
He said: "The objective then was to bring about union collaboration – it was never the intention to create a trade union – it was to try to bring the trade unions to a single table and work together and to try and improve health and safety standards.
"It was the year after Piper, the first anniversary on July 6, 1989 that we stopped work in recognition of the first anniversary.
"Subsequently we started stopping work and sitting in for two days, then going to work for a couple days, and then stopping work again. That continued through the summer of 1989 and that was when Oilc, the Offshore Industry Liaison Committee, was born."
The group's logo is similar to and inspired by "Solidarnosc" – a trade unionist movement in Poland led by former president Lech Walesa.
Margaret Thatcher supported the movement in Poland as it opposed communism, so "that's was why we came up with the Oilc logo to fit with the Solidarnosc movement", Mr Molloy remarked.
Still in the wake of the 1986 oil price crash, workers had also been galvanised into action over health and safety as well as cuts to wages and conditions.
Mr Molloy said: "There was a whole culmination of events which led to the complete stoppage of work in 1990 and then hundreds – I think it was 700 – ended up getting blacklisted and never worked offshore again."
Oilc produced a video to mark the first 30 years, dedicated to the workers "who put their livelihoods on the line in pursuit of fairness, justice and a safer workplace".
Writing for Energy Voice in 2015, Oilc founder Ronnie McDonald described Piper Alpha as a wake-up call for the North Sea.
He added: "The offshore workers' insurrection over an 18-month period to late 1990 refocused minds of operators and employers and led to reinstatement of our confiscated pay and conditions, plus some extra.
"The main focus of the industrial action wasn't pay at all. We believed that only united trade unions could be capable of protecting us against a repeat of the bad treatment of the previous decade."
In 2008 Oilc merged into RMT with more than 2,500 offshore members which has today swelled to around 5,000 members, encompassing a wider scope of "energy" activities.
The branch has members from a range of groups including contractors, offshore caterers, divers, drilling staff and others.
In recent years RMT Offshore has been vocal around the issue of offshore rotas – fighting for a standardised rota of two weeks on, three weeks off (2:3).
It has been described as one of the top concerns of the workforce, with some operators moving to 3:3 amid the last oil downturn to cut costs.
Unions have condemned the move, with warnings it could have implications for safety and mental health.
RMT Offshore has also been seen in recent years supporting the families of victims of a series of helicopter crashes in the North Sea.
A total of 33 people have lost their lives in crashes since 2009 in the now grounded super puma model of helicopter in the sector.
A fatal accident inquiry is being prepared into one of those incidents which took place off Sumburgh in 2013.
Mr Molloy said that the union will continue to play an important role in offshore safety while acknowledging the work of those who helped set up Oilc three decades ago.
He added: "I think we need to acknowledge what those guys did back then.
"They had a major involvement in shaping the regulatory structure that we have today and they will continue to have input into that."
Recommended for you

Anniversary reminds us there is no room for complacency in safety