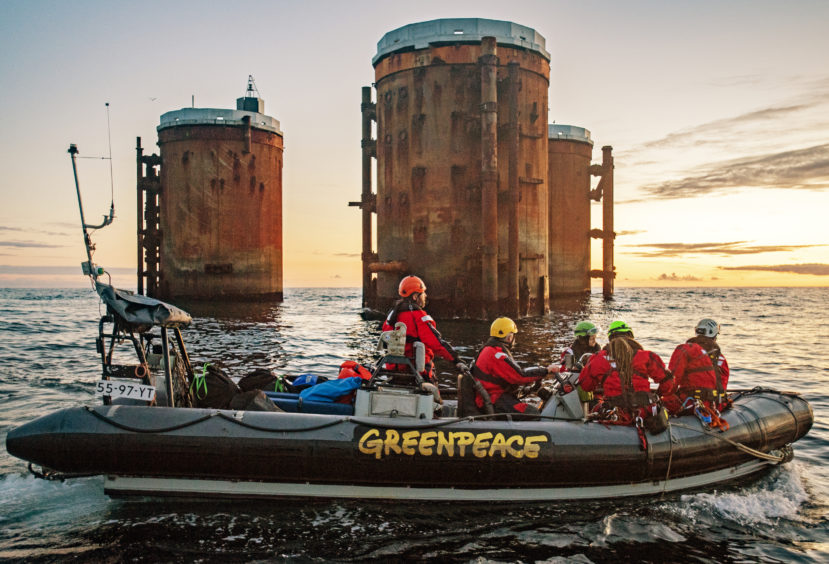 A new research project looking to determine the effect of oil and gas and renewable energy structures in the North Sea has been kicked into high gear amid growing tensions between energy supermajors and climate groups.
The Insite Programme, an independent venture funded by both oil and gas giants and environmental research groups, announced last night it is taking further steps to increase its understanding of the influence of man-made structures on the ecosystem of the North Sea.
It is also focussed on the decommissioning of long standing oil and gas structures on marine life and the effect of new offshore wind turbines.
The announcement comes days after Greenpeace activists scaled two of Shell's North Sea structures protesting for their removal.
Now into its second phase and the fifth year of research, the programme has been backed by firms such as BP, Shell, Total, Chevron and ExxonMobil to the tune of £2 million.
A further £5m comes from the Natural Environment Research Council (NERC) and £600,000 from The Centre for Environment, Fisheries and Aquaculture Science (Cefas).
The project has also attracted the interest of the UK Government and DEFRA.
While Insight's initial phase sought to understand the influence of man-made structures in the North Sea, the second phase will look to determine the effect through energy sector data.
It is scheduled to conclude in 2022.
Programme director, Richard Heard said: "This data initiative is crucial to furthering the scientific objectives that we set out in 2014.
"At the conclusion of a successful Insite Phase 1, the need for high quality data to describe the ecosystem in the North Sea and enhance the scientific outcomes from the research was clear.
"A new tool has been developed to provide a robust process for scientists to identify data collected by industry during their operations, which could be used to further research into the role of anthropogenic structures in the ecosystem."
Aberdeen-based energy consultancy Xodus Group will facilitate the delivery of the new data collaboration between industry and science.
Activists from the Netherlands, Germany and Denmark boarded two oil platforms in the North Sea on Monday.
The protest action was led by Greenpeace at Shell's Brent field, around 115 miles north-east of Shetland.
The climate group spent the night aboard the decomissioned Brent Bravo – brandishing signs of "Shell, clean up your mess".
It halted its protest action after 24 hours, leaving a graffiti slogan labelling the platform "toxic waste".
It comes ahead of a special meeting of Ospar, an agreement between 15 governments to protect Europe's marine environment, which takes place in London on Friday.
Some countries have lodged objections to Shell's plans to leave the legs of three of the Brent platforms – Bravo, Charlie and Delta – in the sea, with concerns around the contents of concrete oil storage cells within them deteriorating.
Shell insists its plans are both safe and "environmentally sound", with any release of the cells' contents happening gradually over centuries.
Recommended for you

Rig demand rises with higher oil prices as North Sea activity picks up