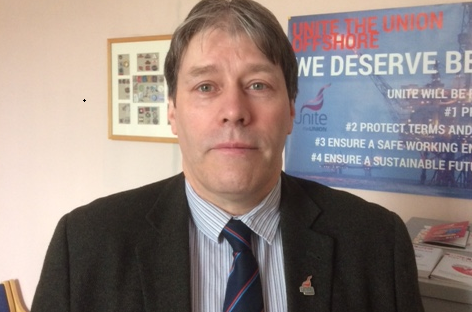 An offshore union has accused Oceaneering of using "aggressive" tactics to force Aberdeen workers to accept less favourable contracts.
Unite regional officer John Boland said the US firm had issued "notices of termination" to 40 of its non-destructive technicians in the Granite City.
Mr Boland said Houston-headquartered Oceaneering would offer to "re-engage" them on the new terms.
The company has been embroiled in a dispute with its employees over the last few months, he said.
The union official said the changes would have a "negative effect" on their terms and conditions and had been turned down by employees.
He said: "Unite will do everything it can to support our members from an aggressive employer that will not listen to its employees and believes it can just terminate a whole workforce and force them onto a new contract."
Oceaneering has been contacted for comment.
Mr Boland also said Unite was in a "battle" to get "recognised" by Oceaneering and that a hearing was slated for later this month.
Unions can apply to the Central Arbitration Committee – a permanent independent body with statutory powers – for "statutory recognition" if an employer does not agree to recognise them voluntarily.
In December 2017, Unite accused the engineering firm of adopting "Trump style" union busting tactics at its base in Rosyth, Fife.
At the time, the union said Oceaneering had overstepped the mark by bypassing the union and taking a new terms and conditions  offer directly to its Rosyth workforce.
In August, Oceaneering revealed plans to consolidate its seven north-east offices into a new location at Aberdeen International Business Park in Dyce, which can accommodate more than 300 employees.