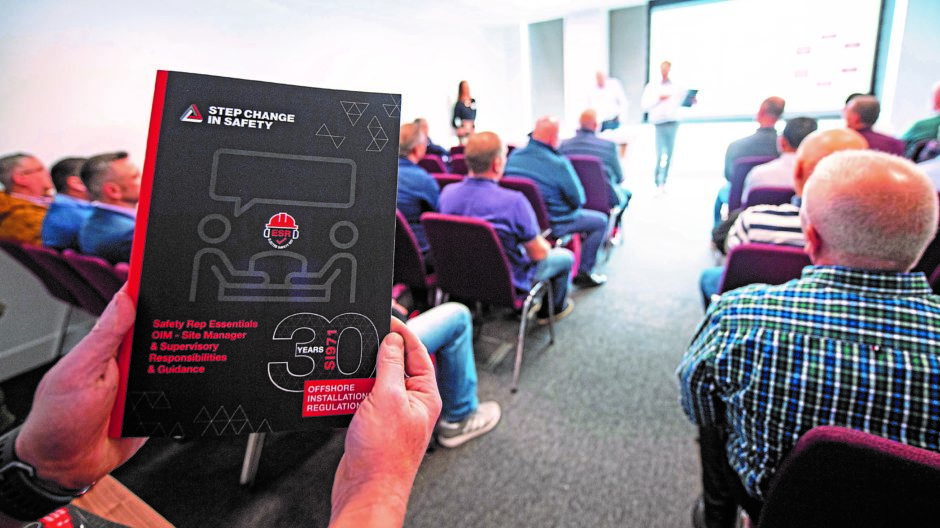 More than 350 onshore and offshore safety representatives from across the UK gathered at Aberdeen's P&J Live for the recent Safety Rep 30 Conference, which was organised by Step Change in Safety, the UK's member-led oil and gas safety body, to recognise the 30th anniversary of the SI971 regulations brought in following the Piper Alpha tragedy.
Attendees were also joined by workers on around 70 offshore installations and onshore bases across the world via a global webinar.
This sell-out unique event recognised the three decades of effort from safety reps who contribute to safe operations – those who find solutions to issues, those onshore who support safety offshore, and the people who volunteer to represent their colleagues as safety reps.
The event saw the launch of Safety Rep Essentials – new guidance tools, supported by the Health and Safety Executive, which will help safety reps effectively fulfil their functions and clearly define what they should expect to be facilitated with.
Following on from this incredibly successful day, Step Change in Safety's workforce engagement support team (West), which is made up of representatives from a range of member companies, has been working to capture the spirit and intent of the day, and deliver on the trust and support which was demonstrated by all those who took part and the companies which supported the conference. To do this, we need the support of the workforce, the industry and the regulators.
Our message is clear, if you're a member of Step Change in Safety, a Step Change in Safety focal point, a safety rep, an offshore installation manager (OIM) or site manager, please step up and get involved.
If you're a worker on the tools or a supervisor, please take the time to read our guidance.
If you're the regulator, please use the guidance as a best practice model with which to engage with workers, safety reps and OIMs during your inspections.
The West team will shortly be producing an informative film answering all the questions which were raised throughout the conference which can be shown onshore and offshore during safety meetings. We will soon be asking all the member companies of Step Change in Safety to share this with their onshore support staff and offshore employees within their organisation. This film will focus on the three key groups:
1. Workers and safety reps
2. Site managers, OIMs and supervisors
3. Employers and duty holders
We will also be relying on the Step Change in Safety leadership team elected safety rep network to deliver the safety rep and workforce sections of the guidance.
Meanwhile, OIMs, site managers and supervisors will be actively rolling out their specific guidance, with onshore support leaders sharing their new best practice documents with their teams.
This is the beginning of a new era in workforce engagement which will improve health and safety, deliver improved productivity and provide tangible business benefits to the oil, gas and energy industry.
Recommended for you
X

£200m waste-to-energy incinerator plan for north-east