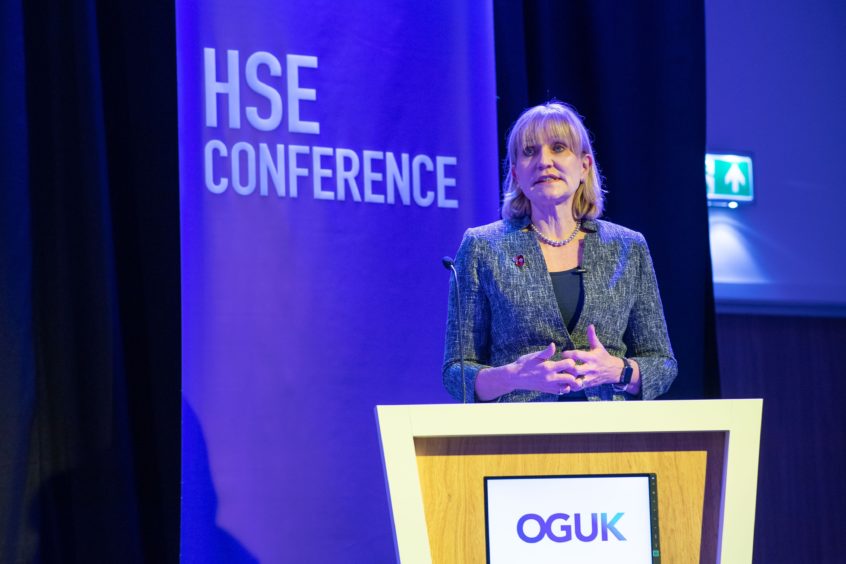 A North Sea boss has hailed new leadership measures to prevent major hazards offshore as being the "first time" in her career the industry has aligned in such a way.
Deirdre Michie, chief executive of Oil and Gas UK (OGUK) was addressing the opening session of the trade body's inaugural HSE Conference in Aberdeen.
The industry has established a release prevention plan in response to recent statistics showing an increase in the number of major hydrocarbon releases (HCRs) last year.
That includes a set of principles of process safety leadership, promoting the involvement of senior managers in managing "major hazards".
An HSE report from OGUK last month also showed, more widely, that if current trends continue, the "three-year-moving average" for all types of HCRs will increase for the first time in a more than decade.
Ms Michie said the industry taking action to address the issue.
She added: "The downward trend in HCRs shown in a three-year moving average plateaued in 2018,
"Meaning that if the rate continues the current trajectory this year there will be an increase – that would be the first in a decade.
"It's a badge we don't want, and one which we are working hard to avoid.
"So, with our members, the regulator, Step Change in Safety and the MER Asset Integrity Task Group, OGUK on behalf of industry has developed a robust release prevention plan with actions underway or under consideration across people, processes and plant, endorsing principles in process safety leadership.
"(It's) the first time in my North Sea history that our industry has aligned behind a common set of process leadership principles and I commend all those involved who have got us here."
ALSO READ: EnQuest platform evacuation shows need for 'vigilance' warns HSE chairman
Around 300 people attended the conference at P&J Live in Aberdeen, which also focussed on issues such as improving the industry's environmental impact and the mental health of the workforce.
Ms Michie said that, as the industry goes about addressing future and current challenges, it must keep health and safety as its top priority.
She added: "Earlier this year we marked the decade since the helicopter tragedy off the coast of Peterhead, where sixteen lives were lost,
"As we go about our day to day activities and as we look to the future, we must never forget and we must always remain chronically uneasy to ensure that the unthinkable doesn't happen."
Recommended for you

Industry needs 'white, middle-class men to step up', says OEUK D&I lead