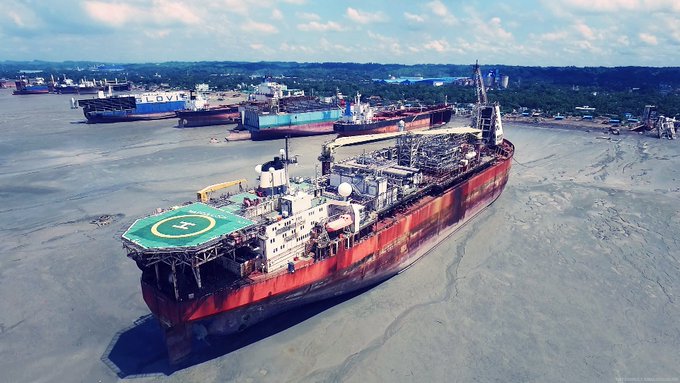 A court has ruled it was illegal for a UK North Sea production vessel to be imported, beached and broken down on a notorious beach in Bangladesh.
The North Sea Producer FPSO, which served the MacCulloch field in the UK sector for more than 15 years, was found on Chittagong beach in 2016, where unskilled workers, including children, break down vessels manually.
Before that, the vessel had been laid up in Middlesbrough and was cleared to leave the UK for further work in Nigeria.
Investigations are still underway as to how it ended up in South-east Asia, some 5,400 miles from its initial destination.
Bangladesh's Supreme Court has now declared the move to scrap the ship there as illegal following action brought by the NGO Shipbreaking Platform and its member group, Bangladesh Environmental Lawyers Association (BELA).
The court noted violations of international shipbreaking laws and passed rulings for stronger regulations, including ensuring no vessels are imported without verifiable certificates.
The FPSO had been owned by North Sea Production Company, a joint venture between Maersk and Odebrecht and operated on ConocoPhillip's MacCulloch oilfield.
Following the ruling, NGO Shipbreaking said: "This is not a case of poor human rights due diligence, but one where companies collude to earn big bucks on the back of people and the environment.
"We demand that authorities in the UK follow suit and establish the responsibility of all parties involved."
Maersk sold the vessel and said in 2016 it had been "cheated" over the final destination of the FPSO, with the buyer not living up to its obligations.
The UK's Department for Environment, Food and Rural Affairs (Defra) is still investigating how the ship was illegally exported to Bangladesh.
In 2017, Janata Steel, the company which beached it on Chittagong, was served an injunction by the Bangladesh Court on the breaking of the ship after high levels of radiation were detected.
National agencies have since been directing the remaining breaking of the FPSO without Janata's involvement.
Lawyer and director of BELA, Syeda Rizwana Hasan, said: "The judgement is important in that it has expressly called the import, beaching and breaking permits illegal, and for the first time a breaker has been put off the breaking operation and the government has been given the steering.
"It is even more important because it has required the government to regulate the dubious roles of the cash buyers and restrict import from grey- and black-listed flag registries.
"This will surely make it difficult for the unscrupulous players to treat Bangladesh as a dumping ground."