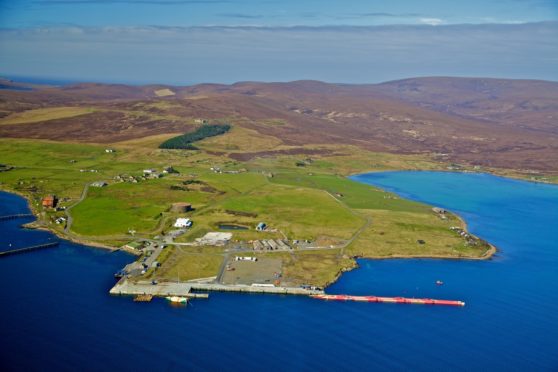 Plans to redevelop an Orcadian port have been dealt a major blow after the Ministry of Defence (MoD) rejected calls for help with a decades-old navy oil spill.
Orkney Islands Council intends to redevelop Lyness, on the island of Hoy, to take advantage of increased activity in oil and gas decommissioning.
However it was revealed last year that the local authority would first need to pay an estimated bill of up to £384,000 to extract heavy oil trapped below the site from when it was used as a Royal Navy fuel depot.
Orkney Council made a formal request to the MoD to help foot the bill as the contamination took place in the 1960s when it was owned by the government.
However, the MoD has now written back to the council saying the evidence "does not support the MoD assuming liability".
The incident occurred due to a pipe spillage in the 1960s, before the council took over ownership of the Lyness Harbour area in 1977.
Gavin Barr, infrastructure director at the council, previously conceded that persuading the UK government to step in would be "challenging", with it being likely that the local authority was aware of the contamination when it acquired the land.
An MoD spokeswoman said: "We are committed to the highest standards of safety, security and environmental protection but in this case, the evidence does not support the MOD assuming liability for the contamination.
"We have written to Orkney Islands Council to confirm this."
A spokesperson for Orkney Council said it is "considering the MoD's correspondence on this matter".
The local authority believes there is huge economic opportunity for Lyness in terms of decommissioning work due to its geographic position.
It is located within Scapa Flow, one of Europe's largest natural harbours, which sits between the North Sea and North Atlantic which makes it an "ideal" site for energy-related activities.
Councillor David Dawson, on the harbour board sub-committee, described the MoD's response as "disappointing".
He said: "My sense was that the polluter pays but there is the passage of time and the fact that it was purchased in the full knowledge of the contamination.
"We are disappointed but not entirely surprised given the historical background.
"I think it was worth a try. It will now be brought back before the committee and discussed there but the initial feeling is we will probably have to proceed with it in the long run if we want to do anything with the land.
"Otherwise it will sit idle forever more. It is a potential resource which could yet yield benefits."