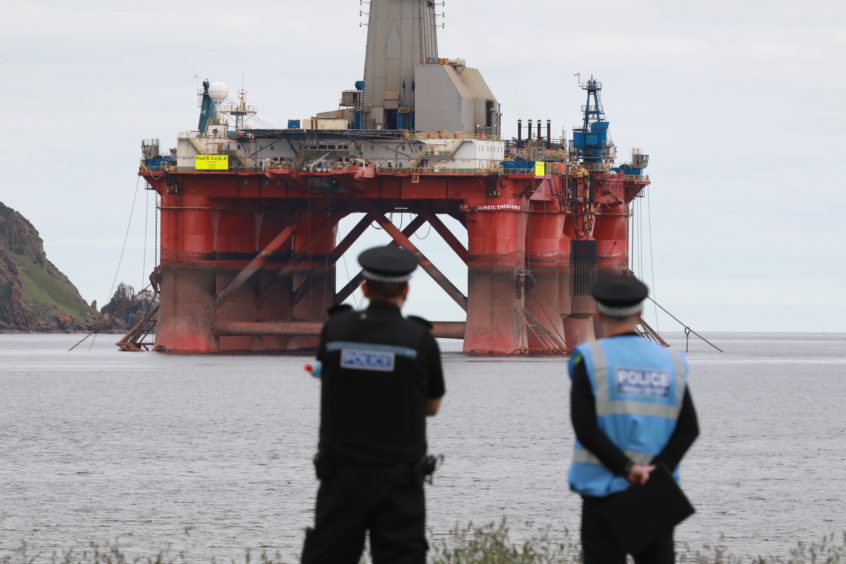 BP's North Sea boss has said Greenpeace activists told him they targeted the company because they believed BP "can actually make a difference" on climate change.
Ariel Flores and Shell UK upstream director Steve Phimister were questioned yesterday at an Oil and Gas UK event in Aberdeen on the energy transition and how climate protests have affected their operations.
In June, Greenpeace activists carried out a 12-day standoff attempting to prevent the Paul B Loyd Jnr rig from reaching BP's Vorlich field in the North Sea.
The incident clocked up hundreds of hours of police overtime, costing £140,000 to the taxpayer, but Greenpeace said the move was prompted by BP's "failure to get a grip of their impact on the climate emergency".
Mr Flores said there was a "candid conversation" between BP and Greenpeace at the time.
He condemned the "unsafe" action of protestors but said the two organisations broadly agreed on the work needed on climate change.
Mr Flores said: "There was a pretty candid conversation with Greenpeace at the time when they were on one of our rigs.
"It's phenomenal because we're aligned absolutely on the interests – a little bit on pace – but at the time I was told 'Ariel, you're targeted because we believe you can do something about it and we believe you can actually make a difference'. And on that point we also agreed.
"So I think when it comes to them taking action in this particular case, which was hugely unsafe, it's trying to bucket that energy around initiatives and projects, whether it's facts, whether it's going out to schools and pushing engineering and science.
"These are things that will make a difference because we want to be part of the solution and want employees to actively know that they are part of an organisation that can distinctly make a difference."
Similarly, Steve Phimister of Shell said he largely agreed with the cause of activists seeking action on climate change.
Shell was hit by protests at the Brent field, currently being decommissioned in the North Sea, in October.
Mr Phimister said: "I don't disagree with the cause of Extinction Rebellion or Greenpeace.
"When we sit down with Greenpeace and look at their agenda and items, it would be pretty hard to disagree with most of them. Perhaps one, which is the end of oil and gas right now. I don't think that's tenable or credible.
"But I think given that we're very aligned on the endgame, where we want to get to, what worries me the most is the nature of the conversation is very combative. It's not focussed on what's the solution and how we can work together.
"If ever there was a challenge to pull together on, it's this one. Whether it's government, private, NGOs, whomever. This is the one to get together to try to tackle because the challenge is huge and the speed needed is immense.
"At the moment it's a little bit too simple and a little bit too combative and it's hard to feel confident entering that dialogue sometimes. You feel a bit in a corner.
"It's time to come out and speak a bit more openly about what we're trying to do."
Recommended for you

Shell hits Greenpeace protestors on Penguins FPSO with injunction