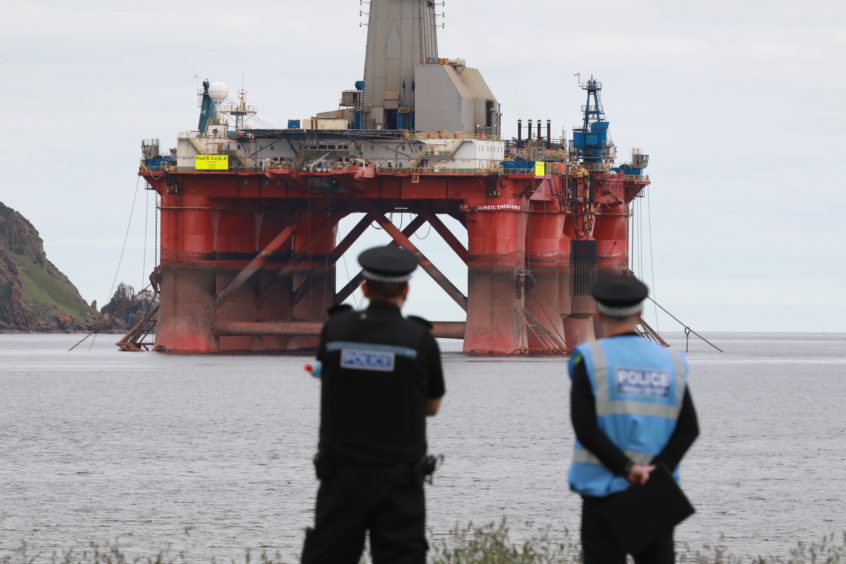 One of the world's biggest offshore drilling contractors will go to court today seeking action against Greenpeace following a massive demonstration earlier this year.
Transocean is the operator of the Paul B Loyd Jr drilling rig that was halted by protesters while on its way to BP's Vorlich field in June.
The firm claim Greenpeace knowingly breached an interim interdict, a court order designed to prevent protest action and that they put people and property "at risk".
However, the activists claim Transocean is taking action to get "prison sentences" for their board members as a result of the disruption caused by the demonstration.
A preliminary hearing will be held at the Court of Session in Edinburgh tomorrow.
Transocean's rig was forced to abort its journey to Vorlich several times after the campaigners blocked its path with an icebreaker ship and two inflatable launches.
Greenpeace activists scaled the Paul B Loyd Jnr rig days before in an attempt to stop it from leaving the Cromarty Firth.
As the stand-off continued, Transocean went to court for the interim interdict – which workers allegedly lowered down to Greenpeace protesters camped on the rig in a bucket – requesting they cease and desist.
BP confirmed last night it was also granted a separate interdict against the Greenpeace protest action in June, which related to the Vorlich drill site.
It is understood BP is not involved in the breach of interdict case brought by Transocean and have opted not to pursue Greenpeace's breach of its own court order any further.
The stand-off between the two organisations is understood to have cost BP in excess of £1.5 million.
A spokeswoman for Transocean said: "While we support the right to peacefully and safely protest,
"Greenpeace protestors placed both people and property unnecessarily at risk when they illegally boarded and subsequently interfered with the safe passage of one of our rigs this summer.
"We requested and received a court interdict to prevent any further activity that would place people or property at risk.
"Greenpeace breached the court interdict by encouraging interference with the safe passage of our rig – again placing people and property at risk."
Recommended for you

The long arm of the law: North Sea assets as targets for protests