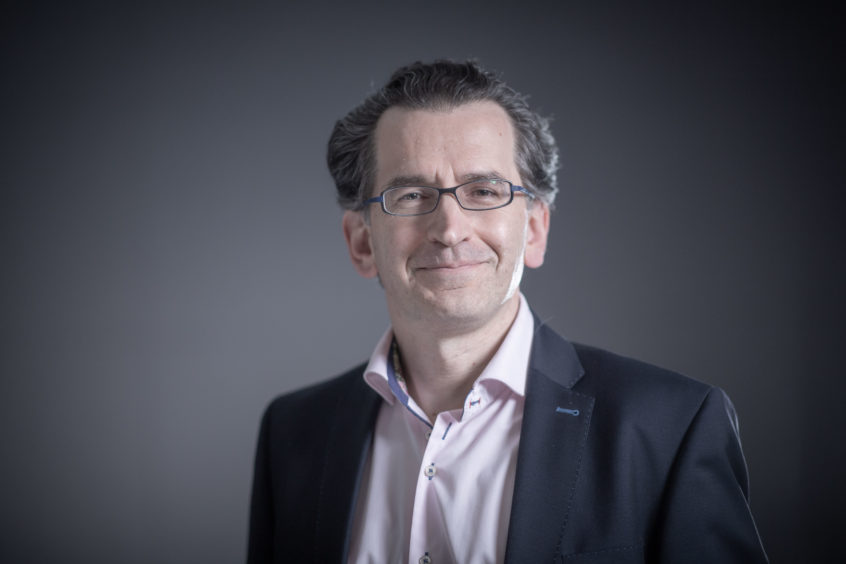 A boss at Neptune Energy said 2020 was shaping up to be the private-equity-backed firm's busiest year in the UK North Sea as activity ramps up around key projects.
Pierre Girard, Neptune's interim managing director, UK, said the 50 million barrel Seagull development was a "big focus area" for the firm, which is participating in several drilling campaigns.
Mr Girard also talked up opportunities for powering platforms in the southern North Sea with renewable energy and the UK's regulatory environment, but warned of bottlenecks in the supply chain.
He stepped into the UK hot seat on an interim basis last year after Pete Jones's promotion to the role of vice-president of operations for Europe.
Mr Girard joined the firm, founded in 2015, through its near-£4 billion acquisition of French utility Engie's exploration and production business, completed in February 2018.
He expects the drilling of production wells to begin later this year at Seagull, which is being developed as a four-well tieback to BP's Etap platform in the central North Sea.
Neptune acquired its 35%-operated interest in Seagull from Apache in 2018 and is working alongside partners BP (50%) and Japex (15%) to deliver first oil in 2021.
Millions of pounds worth of contracts have already been dished out to TechnipFMC, Valaris, Halliburton and Schlumberger for Seagull.
Mr Girard also said an appraisal well would be drilled this year on the 250m barrel Glengorm gas field, announced as a discovery in January 2019.
In October, Neptune struck a deal with Energean to acquire Edison E&P's UK and Norwegian portfolios, which include 25% of Glengorm, operated by Chinese firm Cnooc in the central North Sea. The transaction should go through during the current quarter.
Glengorm and Seagull have "big potential to change the profile and output from Neptune in the UK", said Mr Girard, former commercial and joint venture manager at the firm, which is backed by China Investment Corporation and funds advised by Carlyle Group and CVC Capital Partners.
Neptune is also a partner in Total's operated Isabella exploration well, where drilling kicked off in October and is on-going.
And the firm threw its hat into the ring for the 32nd UK continental shelf licensing round, applying for three licences on an operated basis, and two more as a non-operating partner.
An appraisal well may also be drilled at some point on the southern North Sea Darach discovery, operatorship of which is switching to Spirit Energy from One-Dyas.
Mr Girard said 2020 would be a "big year" for Neptune and that he was motivated by a desire to "make the most" of his interim role and make sure the firm "delivers on its objectives".
And while Neptune's projects are on track, Mr Girard said sticking to schedules and budgets was always a challenge, particularly when multiple initiatives are running at the same time.
He said Neptune was competing with a number of projects for some critical parts — a legacy of the oil industry downturn, which sparked widespread redundancies and oilfield service company failures.
Mr Girard observed that the oil and gas industry was "prone to boom and bust" and that downsizing during lean times made it more difficult to get hold of equipment, services and staff when activity picks up.
Contracts awarded by Neptune — including a framework deal with Three60 Energy for engineering and support services, announced yesterday — help support supply chain.
Mr Girard also spoke highly of the UK oil industry regulator, the Oil and Gas Authority (OGA), created about five years ago on the recommendation of Sir Ian Wood.
The OGA intervened last year in a dispute between Neptune and Spirit about capacity at the Cygnus field.
The organisation flagged "various communication breakdowns" and advised Spirit to keep looking for alternative export routes for its Pegasus project
Mr Girard said having a regulator that was hands-on and prepared to challenge operators was "refreshing" and useful for encouraging collaboration.
Meanwhile, Neptune would "not exclude the possibility" of acquiring another UK North Sea production "hub", in addition to Cygnus, "if the right one comes along", he said.
Neptune bosses previously said the firm planned to be ready for an initial public offering in 2020.
Mr Girard said that remained the case, but insisted Neptune had patient backers and was under "no pressure" to proceed with a stock market listing.
Recommended for you

Serica Energy balances buoyant results with 'wholly unwelcome' windfall tax