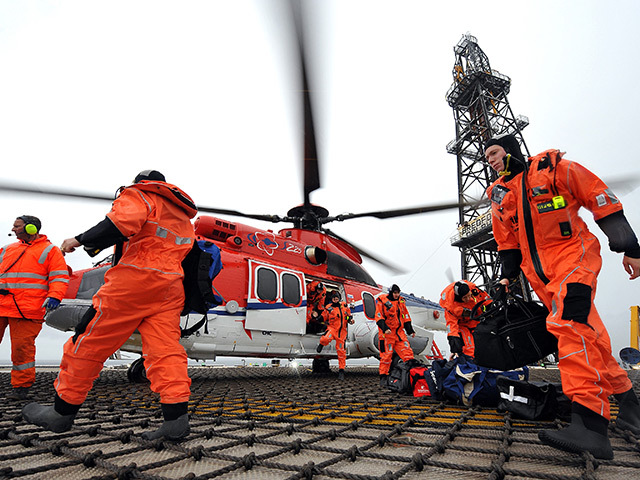 The North Sea's oil chaplain detects an "upswing" on mental health awareness offshore, but morale tends to be improved on installations with two-week rotas.
Reverend Gordon Craig goes offshore roughly twice a month to meet workers and carry out duties on oil and gas installations.
He believes the industry is "grasping" the challenge of raising awareness, seeing the results of "quite successful awareness courses being run offshore".
Reverend Craig, who has been the sector's dedicated chaplain since 2012, added there are signs that the "taboo" of workers speaking out about such issues is being broken.
However, he added that platforms working on three-week rotas "tend to have a lower morale than another one which is working on a two-week rota".
Parts of the industry shifted to three-week rotas in a bid to cut costs following 2014 downturn, although a number of companies have since returned to two-week patters.
Some concerns have been raised about the impact of three-week patterns on employees' work-life balance and mental health.
Mr Craig said that there a risk, however, that the issue can be painted with a "broad brush".
He added: "You've got to be very careful because there are those for whom a three-week rota works really well and works better for them.
"But on the whole, and I say this to companies too, it is my experience that if you're working a two-week rota with your people your baseline of morale, very probably, is going to be up above that of a similar installation on a three-week rota."
Mr Craig said it depends on the "psychological makeup" of each individual and how they respond to issues such like being away from their families for an extended period.
According to the Scottish Government, one in three adults are affected by mental health issues each year, meaning around 15,000 of the industry's 49,000 offshore workforce (OGUK 2019 figures) are impacted, according to Mr Craig.
"It's being responded to", he said.
"Companies are very aware of it and, while they can't cure it, what they are doing in many instances is raising awareness amongst the workforce.
"We see there is a more positive atmosphere offshore. When I was up at Clair Ridge last year, there were a number of folk who were on their final trip because the contract was finishing.
"Whereby a year before it might be doom and gloom, these folk were actually not that fussed they were coming to the end of their contract because they had a strong belief there would be somewhere else they could step into.
"That was quite marked and a real line in the sand, I felt."
Recommended for you

Oil and gas remembrance service to take place in Aberdeen on Saturday