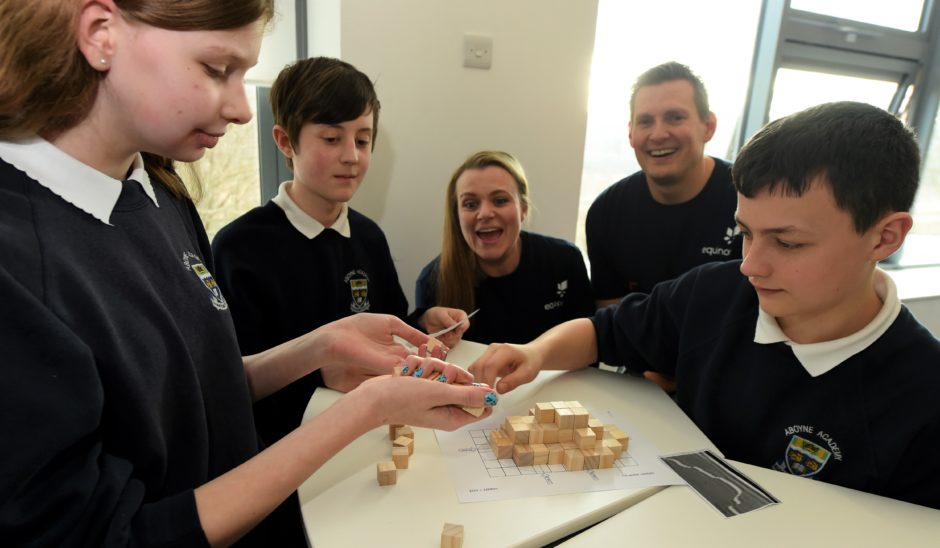 Hundreds of north-east school pupils have been exploring future careers in the energy industry at an inspirational event organised by TechFest in partnership with Equinor.
Around 400 S1 and S2 pupils attended the annual Heroes of Tomorrow event, hosted by Robert Gordon University which provides an insight into STEM subjects (science, technology, engineering and maths) and how they are used in the sector.
Heroes of Tomorrow takes pupils on a scientific journey while helping them develop their confidence and public speaking skills as they present to their peers. Pupils attended a packed programme of sessions and panels in addition to workshops and shows on topics including geology, power sources and engineering.
Equinor's digital innovation zone provided an opportunity for pupils to get hands on experience with a selection of the digital solutions and new ways of working being used every day on Equinor's Mariner project, one of the most digitally advanced developments in the North Sea.
Young people had access to the new technology being used daily on Mariner including the Digital Field Worker which has replaced paperwork and manual processes offshore, saving Equinor 13,000 work-hours over the past two years and Echo, a digital 3D copy or digital twin, of the platform.
Students were also able to open up a new dimension using mixed reality, holographic glasses, Microsoft's HoloLens2, which can be used to monitor for and map errors and faults which may occur in the plant and explore them in real time.
Speaking from the event Arne Gürtner, Equinor's senior vice president UK and Ireland Offshore said: "Equinor seeks to inspire young peoples' interest in STEM subjects, the energy industry and the important role we play in its transformation through our use of innovation and digital technologies.
"Supporting the next generation of scientists and engineers is key to providing energy in a sustainable way. We are proud to inspire the young people of today, we call them our 'Heroes of Tomorrow', to improve the world in which we live through this event.
"It has been exciting to be here with the young people today, to hear about their ideas and discuss the possible ways that they see solutions to our unanswered
challenges. They are our future and this is why it is important to engage with and invest time in them."
Glasgow Science Centre presented Future Fuels, a show which took pupils on an exciting mission to explore how we could generate power in the future.
They also learned about different types of energy sources, including fossil fuels and renewables, and the ways these can be harnessed to create energy.
TechFest Festival favourite Science Communicator Dr Matt Pritchard presented the Superhero Science show, demonstrating how feasible superpowers really are and giving young people the chance to explore the science behind invisibility, super strength, mind control and levitation.
RGU opened its laboratories for VIP tours of the very latest engineering technology with pupils witnessing demonstrations of kit such as the Slice of Ocean Wave Tank, ROV pool and wind tunnel.
Visitors also had the opportunity to attend a range of workshops including Learn How to Rock It, presented by TechFest and Equinor, with pupils travelling back in time to discover the origins of oil and gas in the North Sea and exploring how science has been at work for millions of years.
New for 2020, the climate change workshop demonstrated what the industry is doing to meet the challenges of our future and allowed students to present to their peers as well as engaging with the science behind climate change and what we can all do to make a difference.
Throughout the event pupils were able to network with industry professionals and find out more about their career journey while developing their transferrable skills.
Sarah Chew, managing director of TechFest, said: "This year's Heroes of Tomorrow event has been another huge success and it was great to welcome a new group of pupils and show them the exciting opportunities STEM subjects offer.
"We are grateful to the industry professionals and mentors who gave up their time to inspire the hundreds of young people who attended and particularly to our partner Equinor, who works with us to bring real-life examples to the pupils and helps them to see the huge potential a career in the energy sector offers. The young people really do hold the key to our future."
Recommended for you
Showcasing game-changing energy technologies