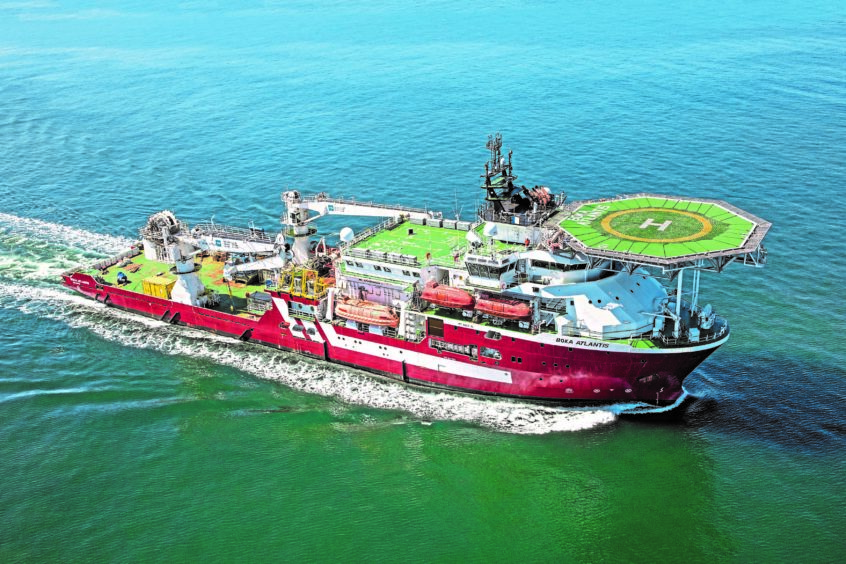 Boskalis Subsea is once again aiming to boost its north-east workforce, just a year after unveiling new offices in Westhill.
The firm opened its base on Prospect Road in January 2019 with a 10-year lease, and peaked with 90 staff there in summer.
This year numbers are expected to grow even further to around 140, with Boskalis planning to take on another building to accommodate the extra workers.
Managing director Stuart Cameron said: "We think this year we will probably peak in the 130-140 range but we think within three years we'll probably be up to the 200 mark if the market goes the way everybody is projecting.
"In particular, if you look at some of the third party analyst data, there is a lot of growth over the next five-plus years both here and in Norway.
"That does two things: It opens up scopes of work for us to come into in terms of IRM (inspection, repair and maintenance) and construction and it also sucks some of the bigger players out into bigger and more complex projects, leaving the gap below for the small step-outs."
The company, which carries out activities including saturation diving, air diving and ROV inspection, has grown in the north-east over the last 12 months from a relatively modest workforce of around 10.
Despite some challenges, Cameron describes 2019, his first full year on the job after spending most of his career with Subsea 7, as "really positive".
The firm, which is a subsidiary of the Dutch maritime services giant, hopes to use 2020 to solidify its position as the "number three" in the UK subsea market.
Cameron said: "There have been lots of different challenges along the way but, overall as you look back it has been really, really positive.
"We see the market coming back, we think this year will be a year like 2019 for us, a year of consolidation. Taking the things we learned during the year, making sure we do all the things really well again, making sure that we improve.
"Bringing 90 people in who have all come from Subsea 7 and TechnipFMC, so the big players, and trying to form your own company, your own culture and your own way, takes time.
"So some of the things we learned last year we need to make sure we embed during the next 12 months and really solidify our position as the number three in the UK."
Boskalis had a "blend" of IRM and SURF (subsea, umbilicals, risers and flowlines) in 2019, announcing £100m of new contracts in May.
The firm is now planning to boost its capabilities and investment in ROV inspection.
However, Cameron said challenges remain in the market, which they can overcome with the "financial muscle" of the wider Boskalis group.
He said: "There are still a number of challenges and the one thing I like about Boskalis is our financial muscle, the various other parts of Boskalis that we can bring to bear on large, more complex projects that we envisage this year and next year.
"If something doesn't make money or if there is a risk in it, we're not suffering the same constraints as maybe others are.
"We see an opportunity in ROV inspection. There are a number of people who have pulled out of that market and we see an opportunity to come in. That, again, is about financial muscle.
"We recently recruited an inspection manager and a technical sales lead. We're just on the brink of chartering a boat, specifically to look at ROV inspection."
Cameron conceded that, looking at the market generally, utilisation remains down which dictates pricing levels, and therefore some people could be "pretty nervous" if they didn't have the backing of a group like Boskalis.
Last year's Subsea Expo heard from Mike Beveridge of Simmons Energy that the industry had "fallen down the pecking order" for investors.
As the 2020 show is due to get under way, Cameron said those looking to get into the business need to take a long-term view.
He added: "We didn't start up the Aberdeen organisation to deliver in year one or two.
It was very clear this was a long-term programme for Boskalis and a long-term commitment. But without that financial backing I think you could be still pretty nervous.
"I think some companies come in looking for a quick result, a quick turnaround and, in today's market, that's challenging. I think you have to be able to ride out the quarters.
Projects are lumpy, clients move projects around for whatever reason – drilling or financial reasons – and you can sometimes be affected in a particular time period so therefore you have to take a longer-term view.
"This is not a straightforward, regular, steady-state business that flows like a manufacturer, for example. These are high-risk, large projects and without the right organisational structure can pretty quickly lead to large losses.
"But it is a good industry if you can deliver and you're focused you can definitely get returns."
The sector can also expect a boost from the incoming oil and gas sector deal, promised by the new UK government during this parliamentary term.
To that point, Cameron said: "I'm for anything that supports the local market and the move to effectively harvest oil out of the North Sea whilst, at the same time, building this sustainable platform for the global environment, but also for Aberdeen.
"We need to make sure in this next round we build a sustainable economy in Aberdeen and we need the government's help to do that.
"How we do it, I think is for the industry body to get together to decide.
"For all the money that's gone through Aberdeen in the last 30 years, to see the oil price crash happen and to look around and think "what next?"
"We've got a second chance at it – were we always going to have it? I don't know, but we've definitely got this opportunity to show it's not doom and gloom anymore, there is light there, there is an opportunity and somehow we need to grab it.
"We need politicians but we also need the industry leaders. We need grey hair and young blood to come in and decide what's right for oil and gas, renewables, Aberdeen, Scotland, the UK.
"Probably not an easy challenge…I'll stick to sat diving."