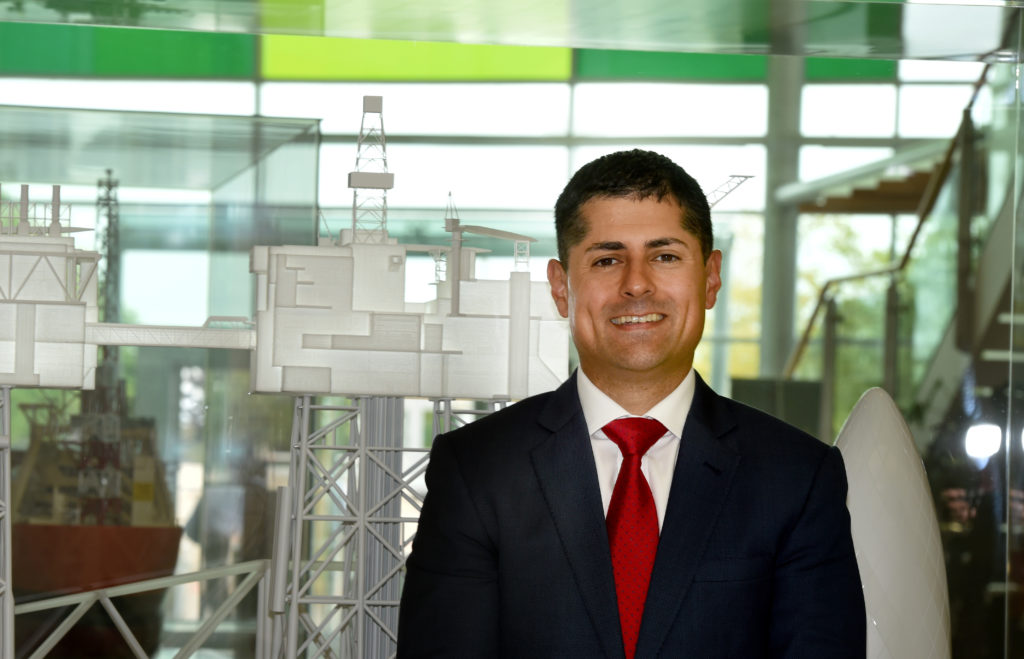 BP has pushed back a final investment decision (FID) on its Clair South project to make sure it aligns with low carbon ambitions.
The oil major was targeting an FID in 2021, but North Sea boss Ariel Flores said yesterday that partners were unlikely to make the call until 2022.
If the project gets the nod, Clair South would be the third development phase of the giant Clair field, west of Shetland.
When the field was first discovered in 1977, it was estimated to contain 7 billion barrels of oil equivalent (boe). Production from phase one kicked off in 2005, followed by a second installment, Clair Ridge, in 2018.
BP has been weighing up Clair South for a while, but with the industry under pressure to cut emissions the firm is prepared to spend more time making sure the project's carbon footprint is as small as possible.
The company recently launched a "call for ideas", inviting nearly 30 supply chain firms to put forward development options.
BP favours a fixed installation over a floating production vessel and is hoping for a "positive response", with submissions due next month.
Mr Flores said: "We've really opened it up to suppliers' ideas and what they believe can be done to make the project more competitive."
He reiterated that BP was assessing ways of powering platforms west of Shetland and in the central North Sea with renewable energy supplied from shore via subsea cables.
Mr Flores said power-from-shore was a "real option" for Clair South, where BP's partners are Shell, Chrysaor and Chevron, and would make the project "more competitive".
In the central North Sea, BP is collaborating with other companies and is confident power-from-shore is technically viable.
Different tax regimes in the UK and Norway mean power supplied by the Scandinavian country is currently the better option.
Meanwhile, a decision on BP's continued use of the Sullom Voe terminal in Shetland as an export route for Clair oil has also been "shifted to the right", according to Mr Flores.
Operator EnQuest is taking steps to make the terminal more competitive, but it is "massively important that demonstrable progress" can be shown this year, Mr Flores said, adding he was encouraged by the start to life made by another of BP's UK North Sea projects.
First oil was achieved from Alligin at the end of December, less than two years on from an FID. Initial production of 15,000boe per day has outstripped initial predictions.
The £230 million project involved a tieback to the Glen Lyon vessel, west of Shetland, and fits in with BP's strategy of delivering production from new oil and gas fields using existing infrastructure.
Mr Flores said this approach helped turn discoveries into producing fields more quickly and made platforms more "robust", pushing decommissioning further into the future.
Another project of the same mould is Vorlich, a two-well development being hooked up to the Ithaca Energy-operated FPF-1 floating production facility.
Progress was disrupted last year when activists boarded a rig which was booked to drill the wells, but Mr Flores said the project team had made up lost time, with first oil from the 30 million barrel field slated for mid-2020.
The 50m barrel Seagull project, operated by Neptune Energy, is being tied into BP's Etap platform in the central North Sea, with production expected to get under way next year.
An FID on the Murlach project, a redevelopment of the Skua field, is on the cards for later this year. BP is also looking at potential hosts for the Capercaillie field, announced as a discovery in the central North Sea in 2018, though there is no firm timeline for that project.
The 2018 Achmelvich discovery, west of Shetland, has been deemed non-commercial.
BP also confirmed that recently completed and agreed asset sales in the North Sea meant it was unlikely to hit its 200,000boe per day production target for the basin in 2020.
A figure of 175,000boe per day is achievable, and the company is still looking for opportunities to grow UKCS production, including through exploration.
Looking forward to working with new BP chief executive Bernard Looney, one of his own predecessors in the North Sea role, Mr Flores said the new CEO would be "bold" and "do things his way".
Recommended for you

Gallery: 'End of an era' as Foinaven FPSO arrives at Hunterston from BP oilfield