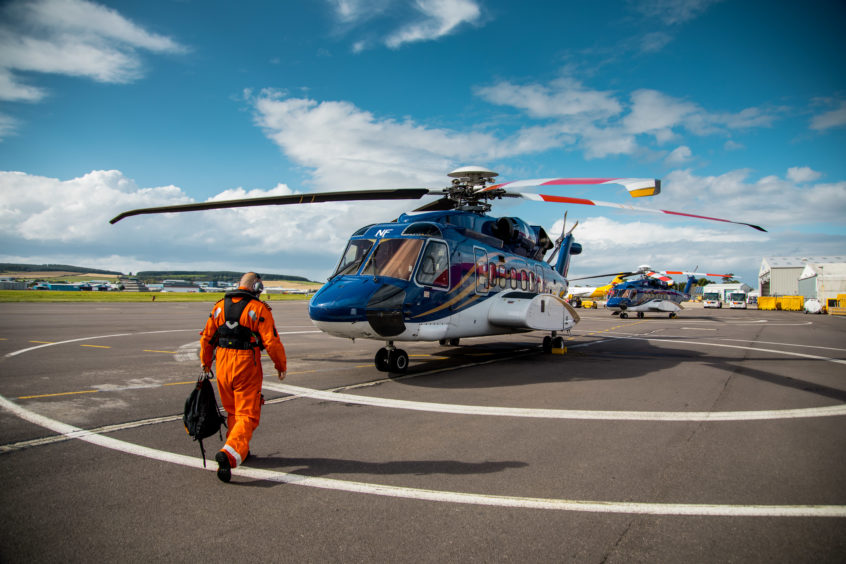 Babcock warned on profits on Wednesday as its oil and gas business continued to struggle in a "frustrating" quarter.
The defence contractor said competition in the oil business had forced it to take a £85 million charge.
The company's helicopters transport around 260,000 people to oil and gas platforms in the North Sea, notching up around 26,000 flight hours every year.
Outgoing chief executive Archie Bethel said: "Competition has got tougher."
Three of Babcock's helicopter competitors have emerged from bankruptcy with reduced debt, making it tougher for the business to compete.
Mr Bethel said Babcock will exit its oil and gas businesses in Ghana and Congo.
"It's been a frustrating third quarter," he added, as the company's marine, nuclear and land business traded in line, or better than expectations.
The business now expects underlying operating profit to reach £540 million, the lowest point of its previous guidance of £540 million to £560 million.
Revenue is still expected at £4.9 billion, while the company thinks it will be able to reduce net debt.
Babcock said in a statement to investors: "The group continued to win work across all sectors in the period, with win rates in line with our targets.
"Our combined order book and pipeline remains at the record level of £34 billion, with an order book of £18 billion and pipeline of £16 billion."
The news sent Babcock's shares down by 27.6p, 4.96% to 528.8p, as it became the biggest loser on the FTSE 250.
The company was hit last year when an anonymous research note from an outfit called Boatman Capital took aim at the company's management.
Neil Wilson, an analyst at Markets.com, said Babcock is still battling with the fallout from the episode.
He said: "It's been a tough period for Babcock. There is still something of a Boatman overhang but the real issues remaining are what's driving the stock now.
"I'd stick to the view that the share price has been undervalued by the market as it's been tarred by the outsourcer brush, whilst there are longer term fears about exposure to UK defence contracts, a revenue stream that can be decidedly lumpy."
Recommended for you

UK government plans new oil and gas 'price shock' tax mechanism post-EPL