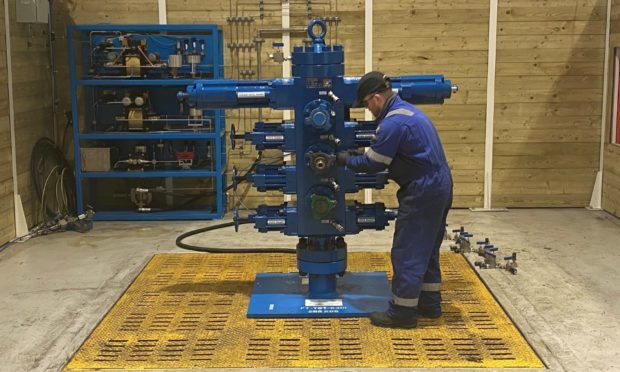 An Angus oilfield services firm has invested a six-figure sum on its on-site test bay facilities to maximise capacity for its maintenance services and supporting the recertification of its extensive equipment rental fleet.
Based at Cotton of Pitkennedy, by Forfar, RMEC sells and rents well services equipment and provides mechanical and hydraulic servicing of equipment.
The investment is the latest in a programme that has seen the firm purchase more than £1 million of rental equipment, increasing its fleet ten-fold to support its international growth, including Black Eagle Hoses, small wellhead pumps and pressure control packages.
The state-of-the-art test bay is used for hydrostatic and high-pressure gas testing.
It has the capacity to verify oilfield equipment up 22,500psi.
The facility now allows two assessments to be run simultaneously when required, and concurrent hydrostatic and gas pressure testing of oilfield equipment to be carried out more efficiently.
As part of the programme, the firm has taken on two new support staff, seeing the headcount more than double from 18 in 2018, to a current workforce of 43.
As part of the investment, RMEC has incorporated a digital logging system to streamline the capturing of test results, allowing large quantities of assessment data to be saved and stored securely and then isolated for rapid analysis.
Bryan Fagan, RMEC managing director, said: "Our double test bay facility is a significant investment and part of our business plan to ensure we are well positioned to deliver a higher standard of maintenance and re-certification services to our clients, while maximising the full potential of the secure space the RMEC location offers us.
"This flexibility we have to perform 24 hour working and use of both high-pressure hydrostatic and gas testing simultaneously is a real differentiator and we believe we are one of only a few companies in the north east of Scotland who can deliver this."
A recovery in the oil and gas sector, along with activities in regions outwith the UK continental shelf, has boosted RMEC, which saw revenues increase by 50% to £8.8m for the year ending March 31.
The firm has an extensive client portfolio including Schlumberger, Halliburton and Shell UK.
Recommended for you
X

Shell behind plans for UK installation of Europe's biggest battery