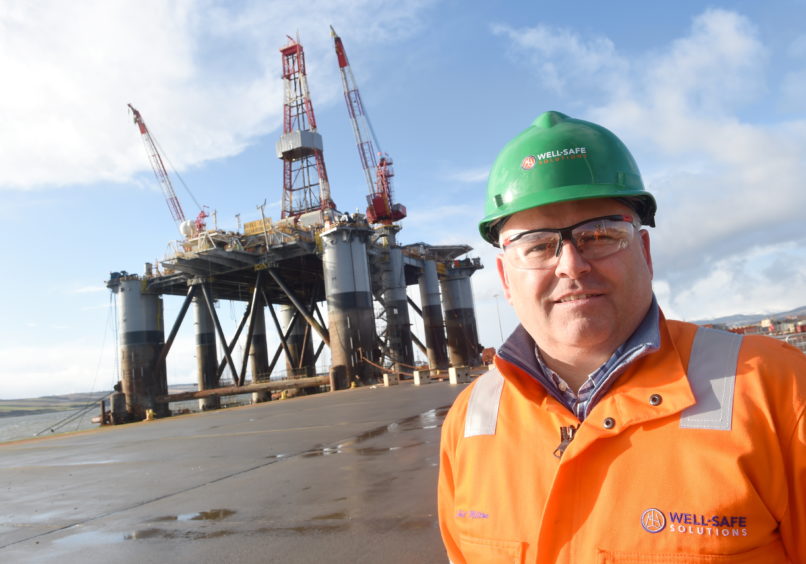 Scottish oil and gas decommissioning firm Well-Safe Solutions is "actively" looking at additional rigs to buy once it seals a maiden gig for the first vessel in its fleet.
Well-Safe, of Aberdeen, announced the acquisition of its first rig, the Well-Safe Guardian (WSG), in spring 2019, budgeting about £75 million to cover the cost of its purchase and refurbishment.
The overhaul and associated checks are almost complete and chief executive Phil Milton said the rig, previously owned by Diamond Offshore, would be ready for oil and gas well plug and abandonment (P&A) work at the start of April.
Well-Safe is in the final stages of awarding a contract for a subsea intervention lubricator and will add a new dive system to the WSG as well.
Mr Milton said those pieces of kit would be commissioned next year, a task that can be undertaken while the rig is at sea.
The company added another feather to its cap last week when it awarded a contract to US oilfield service giant Schlumberger for the provision of well P&A services aboard WSG.
He said Well-Safe was tendering for a number of P&A contracts for WSG, but revealed the market was "quieter" than expected in 2020.
Mr Milton added: "It has not been as busy as we hoped it would be, but 2021 and beyond are looking much healthier, with a number of different projects reaching the execution phase.
"Companies are starting to look beyond that one-year horizon and that's encouraging, because that's where we can work together to deliver the best solutions."
Mr Milton said the company's strong balance sheet meant it could keep investing and growing, even if it has to wait for a first contract for WSG.
However, he is eager to get the rig out to work "as soon as possible".
He said the WSG refurbishment, which is taking place at Global Energy Group's Nigg Energy Park, looked like coming in below budget.
"We are in a very good place with the refurbishment," he said, adding, "Of course, it's easy to be under budget if you make the budget high, but I do think we had an aggressive but realistic budget."
Mr Milton said Well-Safe intended to add to its fleet and another semi-submersible vessel was top of the wish list, followed by a jack-up rig.
"We would like both, but we want ones that can be put to work quickly, he said, adding: "Once Well-Safe Guardian is working, we want to get another asset so that we can build on our learning and capability."
But Well-Safe does not plan to bid on any of the rigs currently stacked in Cromarty Firth, he said.
Well-Safe was launched in mid-2017 by a trio of oil and gas industry stalwarts – Mark Patterson, Alasdair Locke and Paul Warwick.
At the time, the firm announced ambitious plans to create 400 jobs and invest £200 million in assets over three years.
The business, whose current full-time headcount is around 100, hopes to capitalise on what is expected to be a lucrative oil-well plug and abandonment (P&A) market.
Industry body Oil and Gas UK calculated in November that £15.2 billion would be spent on decommissioning in the UK North Sea over the coming decade.Well decommissioning is expected to make up about 45% of the total bill.
Well-Safe aims to drastically lower P&A costs by lining up and consecutively decommissioning large numbers of wells for multiple clients.
The company reached a major milestone with last year's purchase of the Well-Safe Guardian. It then awarded multimillion-pound contracts to Global Energy Group for quayside and painting services, and to Rigfit7Seas for new accommodation facilities.
Those tasks were expected to create about 100 new positions at the two energy service firms.
About 50 people – a mix of Well-Safe staff and contractors – are currently working on the vessel, and Well-Safe intends to add another 30-40 roles.
Well-Safe has already cut its teeth in the art of well-decommissioning project management.
As well as having an experienced team, Well-Safe has helped plug and abandon five wells on Repsol Sinopec Resources UK's Fulmar field in the UK North Sea.
It is also project managing the decommissioning of wells belonging to DNO in the southern North Sea using a Valaris rig and crew.
Four wells have been plugged and abandoned as part of that campaign, so far.
Well-Safe has continued to attract investment. Last October a consortium led by MW&L Capital Partners – launched in 2018 by leading City bankers Matthew Westerman and Julian Metherell – pumped in £66m to fund the next growth phase.
Mr Metherell, who joined Well-Safe as a non-executive director that month, was previously a partner at Goldman Sachs and headed up its UK investment banking division.
Well-Safe chief executive Phil Milton said yesterday the MW&L consortium had taken a "significant shareholding" in the business, but not a majority holding.
Recommended for you

Decommissioning excellence – getting ready for removal