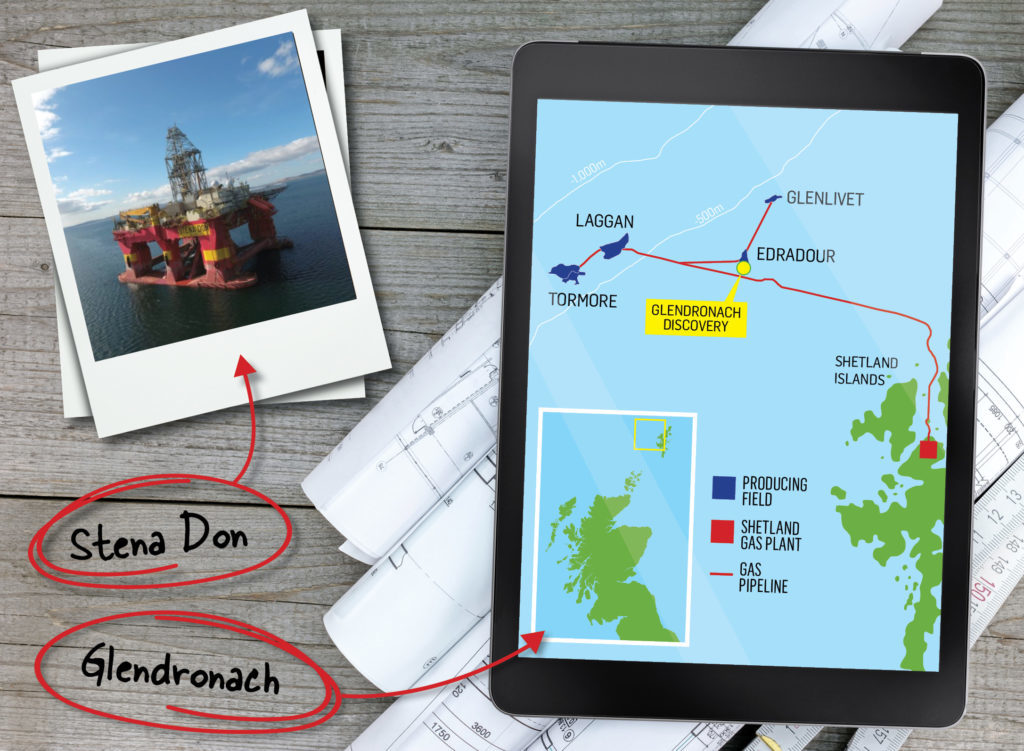 One of the largest offshore discoveries in UK waters of the last decade has had its recoverable resources cut by 40% following an appraisal well.
Glendronach was the largest oil and gas find in the West of Shetland since Rosebank in 2004 when operator Total announced it in September 2018, at around 1trillion cubic feet of gas or 167 million barrels of oil equivalent (mboe).
However, an appraisal well last summer put resources "at the lower end of expectations" while Total is now facing costly modifications at its Shetland Gas Plant to remove high levels of mercury from the fluids.
A Total spokesman said Glendronach is a "play opener" and remains part of its West of Shetland strategy.
The French operator submitted information to the Oil and Gas Authority's (OGA) website outlining the "economic challenges" for the Gas Mercury Removal Unit (GMRU) and that it has now decided to develop Glendronach as a one-well, rather than two-well, project.
Dave Moseley, senior analyst at Westwood Global Energy Group, said this will have cut recoverable reserves but there is potential nearby for more additions.
He added: "Appraisal drilling has now reduced resources to c. 100 mmboe, as Total reported in its 2019 Results and Outlook North Sea presentation.
"Total is now considering a single well tie-back development which suggests recoverable reserves are likely to be lower than this.
"However, the Lower Cretaceous play in this region is emerging and with the follow on Benriach prospect in the play expected to be drilled in the next 12 – 18 months there is potential for volume additions."
A spokesman for Total said: "Glendronach remains part of our strategy for West of Shetland and we are progressing studies on the development options.
"The Glendronach discovery lies close to existing infrastructure and is also a play opener in an area where there are other prospects. This makes the West of Shetland basin an attractive region for exploration and development."
Glendronach was the largest find in the UK since 2008's Culzean when it was announced, however it was overtaken in January 2019 by the CNOOC-operated Glengorm discovery, which has resources close to 250mboe.
Ashley Kelty, equity research analyst at Whitman-Howard, said: "The economic recoverable resource will be significantly lower given current gas prices, and the need for the Mercury removal unit.
"In short, this is probably a marginal development at the current time, as evidenced by the suggestion of a single well development.
"A final investment decision will be contingent on whether Total and partners believe that the slimmed down (i.e. single well) development costs will offset the additional capex of the GMRU.
"Given the low price of gas at present, they will be hoping that prices recover to justify the development."
ECONOMIC CHALLENGES
Total revealed yesterday that it was facing "economic challenges" over Glendronach.
Information posted on the OGA website stated "high levels of mercury" were found at the discovery, challenging the firm's plan to develop the discovery via existing infrastructure at the nearby Edradour field, which started up in 2017.
This means a costly Gas Mercury Removal Unit (GMRU) and other modifications will be required at the Total-operated Shetland Gas Plant, so the operator drilled the appraisal well to firm up estimates and justify the costs.
Despite that well being planned "as a keeper", Total is now pursuing "a single well development opportunity" for Glendronach via the original exploration well
The document stated: "With the GD02 (appraisal well) results bring at the lower end of expectations, the challenges for the project are essentially economic in nature and ongoing work is focussed on reducing reservoir uncertainty and capex optimisations."
Total has a 60% operated interest in Glendronach, while partners Ineos and SSE each have 20%.
The discovery lies less than a mile to the south-east of Edradour and 22miles east of the Laggan field.
Total started up production from Edradour and the neighbouring Glenlivet gas and condensate field in August 2017.
That development consists of a 22-mile tie-back of three subsea wells to the existing Laggan-Tormore production system.
Gas from Laggan-Tormore is exported to the onshore Shetland Gas Plant via a 90 mile long pipeline.
Recommended for you

Wood Mac: New UK licences need major discovery to 'whet Shell's appetite'