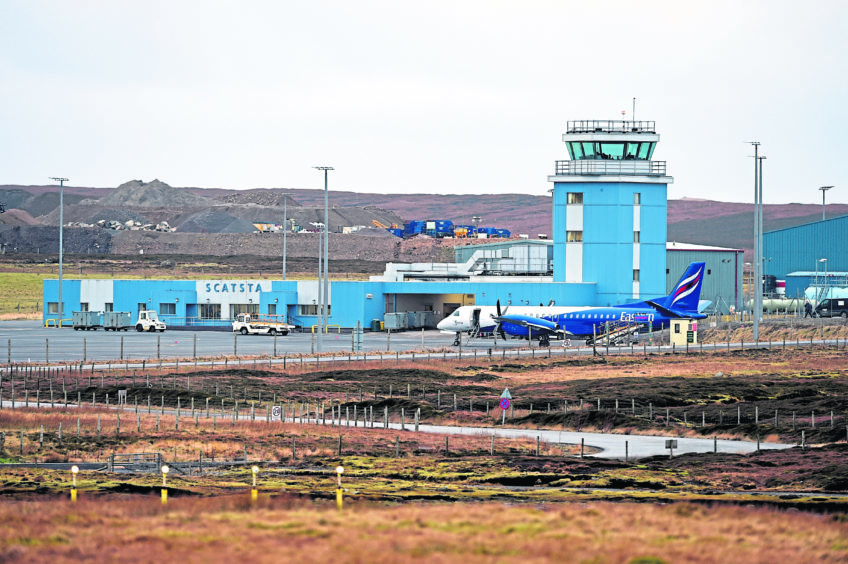 The north mainland of Shetland has suffered a major blow after around 50 staff at Scatsta Airport were told they are going to lose their jobs by the end of June.
The oil industry airport is going to close after Bristow Helicopters and Eastern Airways lost the contract to fly workers to Shetland and oil installations in the northern North Sea.
The new Integrated Aviation Consortium (IAC) contract has been awarded to a consortium of Babcock and Loganair and will operate out of Sumburgh rather than Scatsta.
Staff at Scatsta Airport were told on Wednesday morning they would be out of a job by the end of June, it is understood.
Councillor for the area, Alistair Cooper, said he had only heard about the development at lunchtime and described it as "really bad news for the area".
He said: "I am extremely disappointed that we have come to this.
"I have known for some time that the Integrated Aviation Consortium has been looking at all the options, but I had sincerely hoped it would stay open.
"These are a lot of jobs, and jobs done by young folk with families, and that is really bad news."
He highlighted that the redundancies were coming on top of around 100 job losses at the EnQuest-run Sullom Voe Terminal.
These, plus other job losses in the supply chain, bring the number of redundancies in the sector to nearer 200, Mr Cooper said.
"The one saving grace in all this is that this goes to Sumburgh and with it the possibility that some folk could perhaps transfer," he added.
Sources close to the contract said on Wednesday that some additional staff, perhaps in the region of 20, would be needed at Sumburgh Airport to carry out the additional work.
In November 2018, BP pulled out of the IAC and transferred its business to Babcock, based at Sumburgh Airport.
At the time, the IAC said that losing BP would have no immediate impact on the operation of the contract.
For many years, oil workers from five oil and gas companies have been flown from Aberdeen by Eastern Airways and transferred to helicopters operated by Bristow.
The airport in the north of Shetland is owned by Shetland Islands Council and had undergone a major upgrade a number of years ago. Serco has been supplying airport facilities to operator Bristow.
Neither Bristow/IAC nor Babcock or Loganair has made any public statement on the development yet, although staff at Scatsta Airport had been waiting for weeks to hear about the contract renewal.