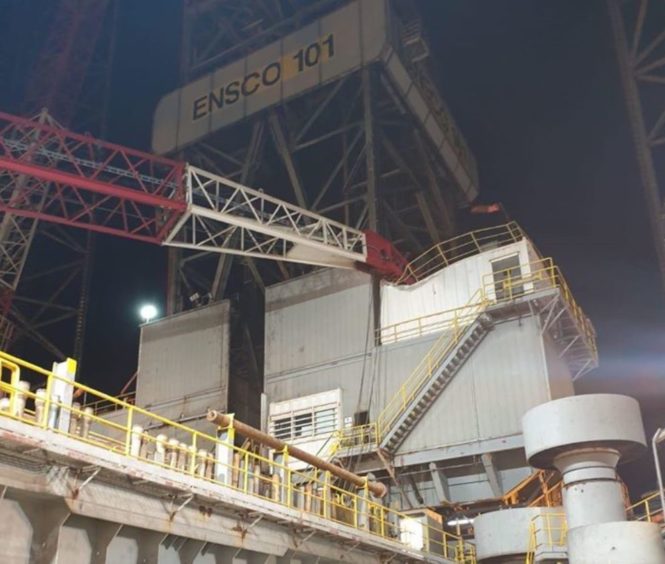 The Health and Safety Executive (HSE) has launched an inquiry after a crane collapsed on a second Valaris oil rig within a month of each other.
An image was posted on the Rig Worker's Rant Facebook page showing the incident on the Valaris JU-101 rig, which still shows the vessel's old name of Ensco 101.
The jack-up rig is currently stationed in Hartlepool.
Operator Valaris has not responded to a request for comment.
The HSE said no injuries have been reported.
It comes after a separate crane collapse on the Valaris JU-120 in February.
A spokesman for the HSE said: "We have been informed by the duty holder. We remain in dialogue and are conducting initial enquiries."
Jake Molloy, regional organiser of the RMT Union, said it was "terrible" but added that cranes can collapse for a number of reasons and that it was important to see the results of the HSE investigation.
The Valaris JU-101 is scheduled to begin a three-well drilling contract for Ithaca Energy in the UK North Sea later this month, according to Valaris' latest fleet status report.
Last month, images also appeared online of a crane collapse on the Valaris JU-120, formerly the Ensco 120, while it was stationed near the Jasmine platform in the North Sea.
HSE also said it was making enquiries into that incident.
London-headquartered Valaris was created last year through a merger of rival rig contractors Ensco and Rowan, forming the largest firm of its kind globally by fleet size.