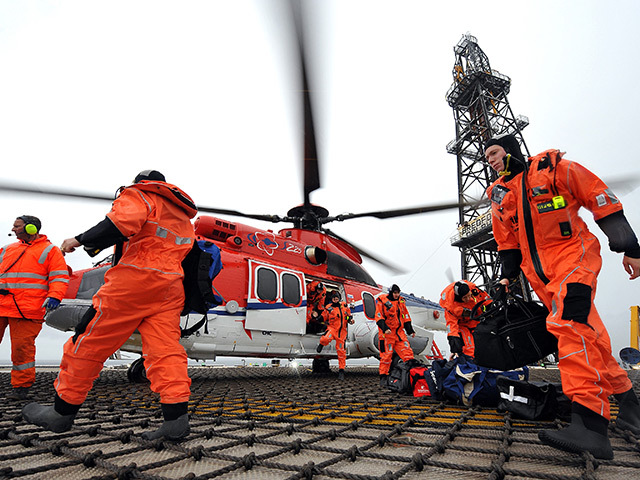 Restrictions on offshore travel will be tightened in a bid to stop the deadly coronavirus spreading across the North Sea, an industry body has said.
Oil and Gas UK (OGUK) said workers returning from "category two" countries would not be allowed offshore, regardless of whether they have symptoms, according to newly-issued, industry-wide policy.
Previously, bans applied to those who recently returned from "category one" countries, and those with symptoms.
Equinor confirmed yesterday that it was "responding to a suspected case" on its Mariner platform, east of Shetland.
Last month, Taqa quarantined a worker on its Tern platform, but the crew member was later given a clean bill of health.
Health and safety director Trevor Stapleton also said OGUK was "not far away" from agreeing a way of removing confirmed virus sufferers from rigs.
Health Protection Scotland (HPS) wants all confirmed cases to be taken ashore for treatment as soon as possible.
But search and rescue helicopters would only remove a person if their condition is life-threatening.
And operators of commercial flights will not send helicopters to platforms with confirmed sufferers.
OGUK, which has resurrected its "pandemic steering group", has been focusing hard on the problem and is "close to a solution", said Mr Stapleton.
Trade union boss Jake Molloy said pilots' concerns for their own health was understandable, but that cracking the helicopter conundrum was vital.
Mr Molloy, RMT regional organiser, said: "We're going to have to get over that bump with helicopter operators.
"If we do not, we could have a scenario similar to the Diamond Princess cruise liner in Japan.
"Quarantine on an oil installation is like quarantine on a ship.
"The heating, ventilation, and air conditioning system circulates air.
"It can quickly create a scenario where everyone is in quarantine. We've got to avoid that at all costs and I hope we can find a solution."
Helicopter operators are prepared to ferry test kits to and from North Sea installations.
OGUK is also working with HPS to hammer out protocol for "lockdown" scenarios, where a coronavirus case has been confirmed on a UK oil rig.
It will give companies guidance on whether they should test all remaining crew, and ways of doing so, for example.
The organisation has also asked the UK Government to prioritise test results for offshore workers to avoid delays.
Some operators want to screen workers before they go offshore by taking their temperatures.
Mr Stapleton said he was concerned that approach would not be accurate enough, but is "reviewing the case" for a wider rollout and expects to make a call next week.
He said platforms were well-equipped to handle emergencies and could continue to operate if a number of workers were struck down with illness.
At the same time, operators do have to identify which workers are fulfilling "critical" roles and come up with contingency plans.
He also said demand for oil and gas would go down as the UK emerges from winter, which is in the industry's favour should some platforms have to be shutdown.
Meanwhile, Matt Abraham, supply chain director at OGUK, has been tasked with "providing an overview and coordinating activities" linked to the planned Forties Pipeline System (FPS) shutdown.
FPS will be switched off for several weeks in summer to let operator Ineos carry out upgrades as part of a £500 million project to rejuvenate the pipeline.
Production from platforms which export via FPS will have to be halted.
Operators intend to use this window to carry out essential maintenance on their installations.
Mr Stapleton said OGUK was in talks with Ineos and platform operators to work out what maintenance needs to be carried out this year, and what can be postponed until 2021.
He added that the coronavirus had already caused problems for the FPS shutdown and associated maintenance programmes, as the import of equipment from Italy has been impacted.
Mr Molloy said increasing contractor numbers offshore for the FPS shutdown should be reconsidered.
John Boland, regional officer for the Unite union, said: "We need a consistent approach and information going to workers. So far there has been a lack of information or conflicting information going out."
Recommended for you

BP paid tax to UK on North Sea business for first time in years