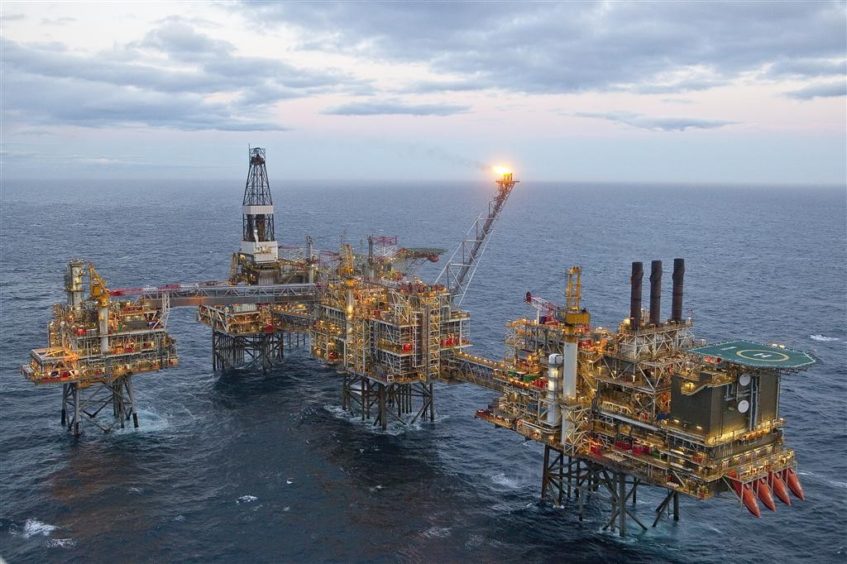 Offshore platforms in the UK North Sea "face the risk of production shut-ins" due to oil storage constraints, according to leading analysts.
Consultancies Wood Mackenzie and Rystad Energy have said there may be a need for UK installations to suspend production as demand plummets and space for Brent Crude fills up amid the Covid-19 outbreak.
Earlier this week the US oil benchmark, WTI, went into negative pricing due to storage running out in the States, with exports being bottlenecked.
Aberdeen University and EY have argued the same is unlikely to happen for the global benchmark, Brent Crude, however others disagree.
Rystad said that, even with new OPEC cuts, onshore storage at 100% utilisation may completely run out by the end of May, bringing "unprecedented low levels even for Brent".
Oil markets analyst Milan Rudel said: "UK North Sea production faces the risk of production shut-ins due to storage constraints if shipping capacity is compromised and no vessels are available to either store or export oil from the North Sea."
Despite an OPEC+ deal to stem production globally by almost 10million barrels per day, due to begin next month, oil prices have continued to plummet.
Brent Crude reached a two-decade low on Tuesday at around $16, climbing to $22 a barrel by 3pm on Wednesday.
Mr Rudel highlighted that the UK's system has "very limited or no offshore storage", while that which is onshore is designed for "smooth uptake operations".
The Forties Pipeline System storage at Dalmeny, for example, has capacity for 3million barrels which "will be filled up in around seven days" if all Forties Blend – which accounts for around 30% of UK production – goes into storage, he said.
Romana Adamcikova, senior analyst for North Sea at Wood Mackenzie said: "I think it needs to happen.
"If there's no demand and no storage capacity then it is a natural sequence of actions, they will need to stop producing. We know the capacity of storage around the world.
"It's not a question of when, it's a question of what does it actually mean."
Trade body Oil and Gas UK is watching the situation closely.
Market intelligence manager Ross Dornan said: "Companies are continuing to monitor market conditions and will adjust their plans accordingly.
"At the moment we haven't heard of any companies who have had to shut in because of market issues, however this is something that we continue to watch closely and are in regular discussions with industry, regulators and government.
"We have seen the events unfold with WTI in the US, and while the fundamentals are different with Brent, we are not immune from what is going on around the world."
A spokesman for industry regulator, the Oil and Gas Authority, said they are "aware of the low demand nad potential limited storage" and monitoring the situation with the Department for Business, Energy and Industrial Strategy (BEIS).
They added that they are now aware of any immediate impact on production.
Yesterday Norway said it would make a decision on whether it would cut its production, a step the country last took almost two decades ago.
The unprecedented impact of the Covid-19 outbreak and plummeting oil prices have led to warnings of more than a million job cuts in the oilfield services industry globally, with hundreds of firms in the UK and Norway expected to become insolvent.
Unions have brokered deals to ensure many offshore workers receive the UK Government's coronavirus jobs retention scheme, rather than be cut outright during the crisis, such as contractors and caterers.