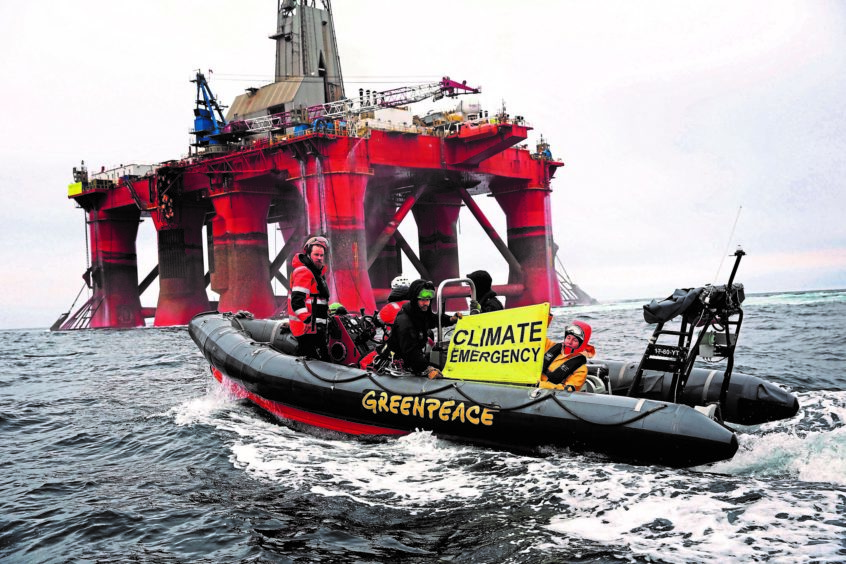 Climate activist group Greenpeace has a "good chance" of challenging BP's North Sea permit for the Vorlich field, according to the organisation's director.
John Sauven, executive director of Greenpeace, said an upcoming judicial review of the permit could deny the supermajor from further drilling in the area, which lies 150 miles east of Aberdeen.
However, he also challenged the UK Government to "rethink" how firms operate in the North Sea basin.
Mr Sauven said: "I think we stand a good chance of challenging the Vorlich permit.
"But I think that we are in a new situation now where it's not about what's happening in the Vorlich field, it's about the UK Government looking at the future of the North Sea.
"They still have a law about maximising oil and gas and I think they need to repeal that law, it needs to be completely re-thought and the North Sea needs to be a hub for renewable energy.
"Particularly because the government isn't making any money out of the North Sea anymore, in fact the reverse."
A recent judicial review found the Oil and Gas Authority granted drilling consent to BP for 20,000 barrels of oil per day but there was no official announcement, meaning the permit could not be challenged by the public.
BP's drilling on Vorlich could now be challenged in Scotland.
Greenpeace claims the government acted "unlawfully" and warned it may now seek to have the permit quashed through the Scottish courts.
Mr Sauven also has a pressing court fight on his hands with US rig-owner Transocean who are seeking jail time for him due to Greenpeace protest action last year.
The firm claim Greenpeace knowingly breached an interim interdict, a court order designed to prevent protest action and that they put people and property "at risk" when they blocked the Paul B Loyd Jr drilling rig while on its way to BP's Vorlich field.
Mr Sauven said he "doesn't know" why Transocean are chasing Greenpeace over the injunctions, but claims his organisation "were justified".
He added: "We did it to raise awareness about what was happening in the North Sea and the duplicity of the oil companies saying one thing and doing another.
"Everyone, including some in government, has been saying we need to take climate change seriously and get out of fossil fuels and that's what we wanted to tell BP – I would still say it to Bernard Looney now."
The climate chief also laid down a challenge to BP's new chief executive on the firm's plans to transition to cleaner energy, which Mr Sauven said has been made all the more difficult since the Covid-19 crisis.
He added: "Mr Looney made a big announcement this year, but there was no plan, his plan is going to come in September.
"When he comes up with that plan he's now got far less room for manoeuvre as a result of Covid-19.
"He's going to have to make some really hard choices about the future direction of BP – is he going to accept that they are just going to slowly decline or does he think he could take BP in a new direction?
"That's what he's now go to grapple with in very difficult circumstances – it's a huge challenge."
BP declined to comment.
Recommended for you

BP hits record profits of $27.7bn in 2022, slows pace of oil and gas withdrawal