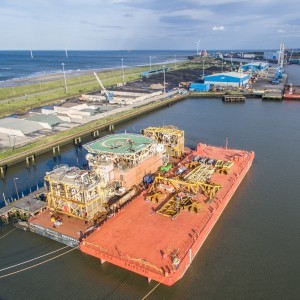 A new offshore decommissioning partnership between Port of Blyth and Thompsons of Prudhoe is to move forward with £1 million investment to enhance the decom facilities at the Northumberland port.
An agreement was reached in February to combine the onshore decommissioning and waste disposal experience of Thompsons of Prudhoe with the port location and offshore knowledge at Port of Blyth.
Both firms will now push ahead with the £1m investment into improvements that will enhance the UK offshore decommissioning capability.
The enhancements at the open access facility include the construction of more than one hectare of heavily reinforced impermeable concrete ground slabs and complex drainage system for surface water catchment and treatment.
John Thompson, chairman of Thompsons of Prudhoe, said: "We are delighted with the construction progress being made, especially during these challenging times.
"We look forward to supporting the Offshore Industry with their increasing demand for onshore dismantling and waste disposal services for 2020 and beyond".
Awarded an Environment Agency permit in 2018, Port of Blyth has already completed several offshore decom projects and will expand its capacity alongside one of the UK's most trusted demolition and decommissioning contractors.
Located on the UK's east coast, the facility is able to accommodate up to 50,000 tonnes of materials per year and serve all sectors of the North Sea.
Alan Todd, port director of Port of Blyth, added: "We're delighted to have been able to commence these works and look forward to hitting construction milestones in the coming weeks.
"With careful planning and strict guidelines in place we have been able to begin the work despite the obvious challenges presented by the ongoing Covid-19 pandemic."
Recommended for you
X

COVID-19 and the new normal; radical technology to achieve net zero