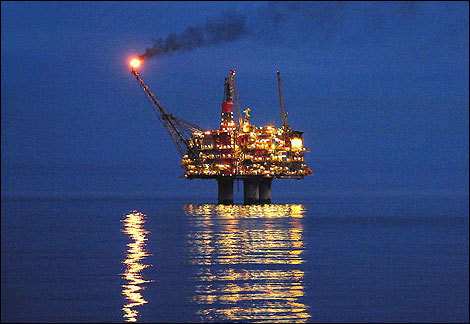 Energy sector leaders have welcomed the UK Government's intention to replace an EU emissions-busting scheme with its own version which "goes further" on reductions.
The EU's emissions trading system (ETS) limits the level of greenhouse gases that can be emitted from installations, including North Sea oil platforms.
Within the cap, companies can buy emissions allowances at auction, each giving the holder the right to emit one tonne of carbon dioxide.
The proposed UK ETS would replace the EU one at the end of this year, when the Brexit transition period ends.
It would mirror the existing EU scheme — which covers a third of UK emissions — in many ways, but its cap would be 5% lower.
Phase one of the UK ETS would run from 2021-30 and could be linked to the EU system or operate as a "standalone".
In the latter case, an auction reserve price of £15 would be introduced to ensure a "minimum level of ambition and price continuity".
But the government will also publish a consultation later this year on the design of a carbon emission tax, as an alternative to the UK ETS, to ensure a carbon price remains in place "in all scenarios".
Energy Minister Kwasi Kwarteng said the proposed measures would be crucial for achieving the UK's target of net zero carbon emissions by 2050.
Louise O'Hara Murray, Oil and Gas UK's emissions improvement manager, said: "We welcome the assurances that the scheme is designed to ensure a seamless transition at the end of the year and the proposals tabled build on the familiar EU ETS scheme, whilst recognising the importance of maintaining our security of oil and gas supply from the UK basin."
Nina Skorupska, chief executive at the Renewable Energy Association, said the announcement was "good news" for the industry she serves and welcomed the clarity provided by Westminster.
But she urge the government to "go faster" and expand the carbon price beyond the power sector into heat and transport.
SSE chief executive Alistair Phillips-Davies said the measures were "encouraging" and that a robust carbon price was the "cornerstone" of emissions reduction in the power sector, so far.
He added: "Investment in low-carbon infrastructure is a win-win for our economy and climate, and we're calling on government to go one better by committing to a net zero power sector by 2040, blazing a trail for sectors where progress has been slower like transport, heat and industry."
Recommended for you

'Who cares wins': Could ESG investment woes hit the UK supply chain?