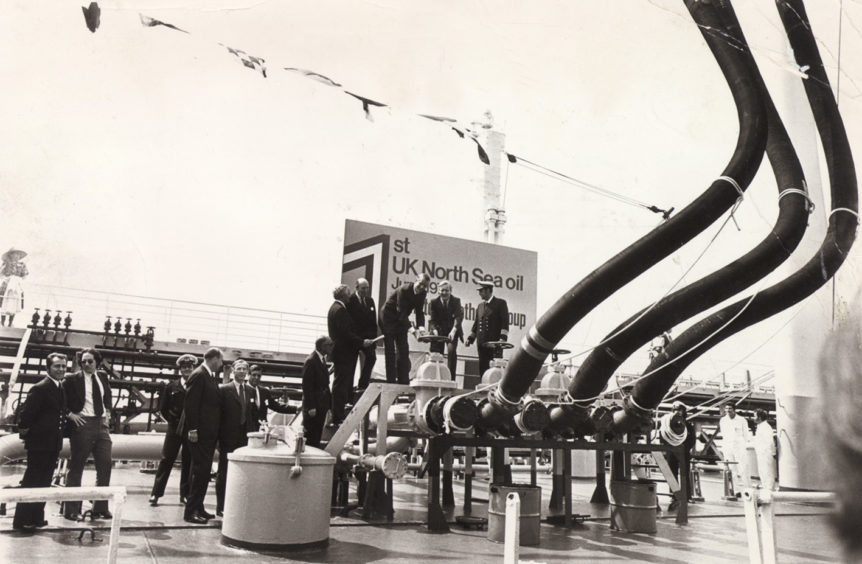 The North Sea energy industry is facing some of its "most difficult and most testing challenges" ever as it today marks 45 years since first oil was landed in the UK.
On June 18, 1975, the then energy secretary Tony Benn boarded a tanker to ceremonially mark the first oil delivered from the Argyll field, proclaiming its "significance to Britain is very great indeed".
His words would prove true – according to trade body Oil and Gas UK (OGUK), the sector has so far produced more than 45 billion barrels, contributing £350bn in production taxes, as well as other benefits such as employment for hundreds of thousands of people.
However, now facing its second major downturn in less than a decade, with thousands of cuts already this year, the anniversary comes at a "seminal moment", according to OGUK's market intelligence manager Ross Dornan.
"If we can get things right", he argued, there remains a chance to boost exports, drill for more oil, remain a major employer and become the world's first net zero basin.
Mr Dornan said: "At the moment, as an industry, we're facing some of the most challenging moments that we've ever faced.
"But there is still really significant potential to be achieved and opportunities to be unlocked in a number of areas.
"If you look back throughout the history of our industry, what we've done on many occasions is overcome challenges and had a real pioneering spirit right the way across."
One of the immediate challenges is to "lead the way in net zero oil and gas management".
Continuing domestic production, a cleaner alternative to importing fuel to meet UK demand, while also boosting net zero investment could help retain major employment in the industry.
There's still around 10-20 billion barrels potentially recoverable, and it makes sense to use that, Mr Dornan said.
With the right boxes ticked, the industry could continue to directly and indirectly employ around 130,000 people by 2035, he said, compared to around 150,000-170,000 today, while boosting annual exports to £20bn, an £8bn increase from today.
But the need to "evolve" has been recognised, with OGUK this week unveiling plans to halve the North Sea's emissions this decade, ahead of going totally net zero by 2050.
That ultimate goal will mean taking advantage of the UK's opportunities in areas including offshore wind, the hydrogen economy and carbon capture and storage (CCS) for jobs to transfer to.
The industry is already making repeated calls to the government for a regulatory regime to be put in place to develop CCS, being discussed as part of a "transformational" sector deal promised by the UK Government.
Last week Holyrood announced a £62m funding package to support struggling oil firms to recover and transition towards net zero.
Mr Dornan said: "Things will evolve, things will be different, however we think there's a huge opportunity if we get things right for our industry to continue to be a significant economic contributor across the whole length and breadth of the UK."
Recommended for you

Failure on D&I could cut oil firms' funding, warns North Sea's top producer