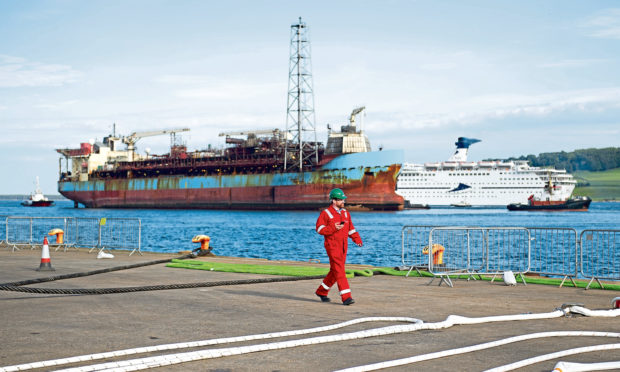 The "vast majority" of UK offshore oil infrastructure will be decommissioned in Britain despite competition from Norwegian yards for the biggest jobs, a market expert claimed.
Will Rowley, interim chief executive at representative body Decom North Sea (DNS), said the UK had the facilities it needed to do "everything".
But Mr Rowley, who has 20 years' experience in offshore market-led intelligence and strategic planning, said there will always be some work that won't be done in the UK due to timing and capacity constraints.
Mr Rowley also warned of the "significant risks" involved in judging the timing of disposal projects to make sure yards are kept consistently busy.
He was speaking after a row broke out over Shell's decision to take its Curlew floating production, storage and offloading (FPSO) vessel to Norway for final cleaning, dismantling and scrapping.
North-east Labour MSP Lewis Macdonald said in parliament on Thursday that he was "deeply disappointed" Scottish yards had missed out and asked ministers to explain what steps they had taken to prevent the work going abroad.
In her response, economy secretary Fiona Hyslop said she was "determined" to secure decommissioning contracts for Scotland.
Curlew arrived in Dundee a year ago for a clean-up expected to last a few months, but has been berthed on the Tay ever since.
The job was suspended "on a precautionary basis" in July 2019 due to a "confined space incident" involving a worker during tank cleaning.
In February, Shell said the clean-up couldn't be completed without parts of the ship being dismantled, but that Dundee didn't have the required facilities.
The company originally intended to take Curlew to Turkey for recycling once the Dundee leg was finished, but had to rip up those plans.
ANGRY SUPPLIERS
A week ago, AF Gruppen announced the job would be completed at its Vats base, which has carried out a number of major decommissioning projects involving installations which served UK North Sea fields, including Murchison and Janice.
Mr Rowley said the decision had sparked "a lot of anger" among DNS members in the supply chain.
He said much of the ill-feeling was due to perceived "poor communication" from Shell around the process and its rationale for picking AF Gruppen.
Shell said on Thursday that the decision to award the contract for the dismantling and recycling of Curlew to AF Gruppen had been made after an "extensive competitive tendering exercise".
The Anglo-Dutch firm declined to comment on the accusations about its communications.
But it's understood Shell presented its long-term decommissioning plans to 150 companies at a seminar it arranged in 2017 so that it could gauge interest and enhance its knowledge of UK capabilities.
When Shell decided earlier this year that its original plans wouldn't work out, the company did not believe going back to square one for another lengthy investigation of the market's offering would be worthwhile.
SLIM PICKINGS 
Shell wanted the work to be carried out at an EU-approved ship recycling facility, of which there are just four in the UK.
Of those, only two are big enough to accommodate Curlew – the dry docks at Able in Teesside and Harland and Wolff (H&W) in Belfast.
Able has been dismantling topsides from Shell's Brent platforms, while H&W was recently rescued from bankruptcy by Infrastrata in 2019.
AF Gruppen's yard in VATs does not have a dry dock, but is an EU-approved ship recycling facility.
It benefits from having an ultra-deep water harbour capable of hosting heavy lift crane vessels which can set platform topside modules directly onto the quay.
The Conservative Party said in its 2017 election manifesto that it would work with industry to create the UK's first ultra-deep water port, while the Scottish Government backed Lerwick's candidacy in 2018.
A feasibility study produced by EY for the Scottish Government in November 2018 said an ultra-deep water port could target £583 million of estimated expenditure for UK onshore recycling and disposal activities, which made up a mere 2% of total decommissioning costs.
Well plugging and abandonment is the part of the decommissioning cycle that requires the most investment, absorbing about 45% of the bill.
Bosses at Lerwick, which secured the Buchan Alpha and Ninian North platform recycling jobs, previously said they could not justify a "speculative build" on an ultra-deep water port.
TIMING RISK
For his part, Mr Rowley said he was unaware of any evidence or studies which definitively firm up or dismiss the business case for either an ultra-deep-water port or a dedicated FPSO disposal facility in Scotland.
Mr Rowley said gauging the timing of FPSO disposal jobs was a "real challenge" because the vessels are not always immediately scrapped once they come off a field.
They can be upgraded and go on to produce from other reservoirs, or even converted into tankers.
Mr Rowley also said the Ninian North topside decommissioning project would have "greater value" for yards like Lerwick than an FPSO job.
He said the skills and expertise which create real value for companies and are "exportable" are linked to the dismantling of topside plant, rather than hulls.
Whether or not dedicated facilities are built, Mr Rowley believes the UK already has what it needs to "do most of the work".
He said: "The UK has got decommissioning facilities that could do everything, but if we have a spike of certain types of activity at the same time, on paper you run out of capacity.
"It's not just capacity in terms of physical yards. It may also be the support infrastructure for dealing with certain contaminants.
"But I would expect more than 90% of the infrastructure coming out the UK North Sea to end up being dealt with in the UK."
LEADER IN HIDDEN DECOM
Mr Rowley also said the UK was a world leader in "hidden" decommissioning.
A large proportion of decommissioning-related activities are "not easy to record and get ignored", for example, when older pieces of equipment are replaced.
Mr Rowley said: "That's one of my little bugbears. A lot of really good decommissioning expertise and activities will never be recognised but they need to be.
"They're important to maintain the sector and they're the sort of skills outside the UK that people are asking us for."
Recommended for you

EnQuest Heather platform to go to Denmark for decommissioning