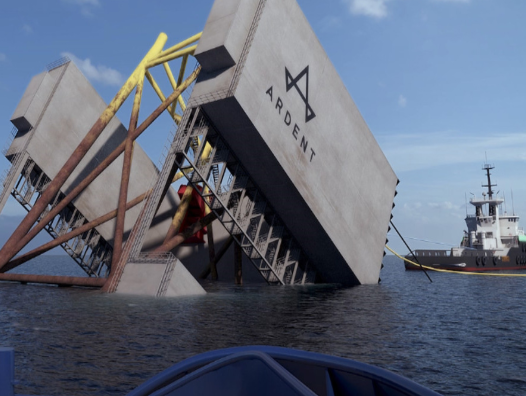 Oil and Gas Technology Centre (OGTC) bosses have said they are "pretty confident" a revolutionary new contraption for recovering platform jackets will grace the North Sea despite one of the firms behind it going bust.
The centre, which has been backed with £180 million from the UK and Scottish governments through the Aberdeen City Region Deal, co-funded the design project for ship salvage company Ardent's Archimedes buoyancy system.
The OGTC estimated Archimedes would be cheaper than chartering heavy-lift vessels and could deliver in excess of £460m in savings to the UK North Sea.
But recent developments appear to have left the decommissioning device in limbo.
Ardent Maritime UK, a subsidiary which worked with the OGTC on the design project and employed three people in Aberdeen, was put into liquidation in late May, documents lodged with Companies House show.
It followed a mysterious statement published earlier that month on Ardent's website, in which the Netherlands-based group said it would no longer enter into new contracts.
The group, which underwent a management buyout in 2019, still has a number of active UK-registered subsidiaries.
And while the OGTC has no hold over the IP, it's unclear who does, exactly.
"Even within Ardent, two companies were involved in developing the concept, so you cannot say easily who owns which IP," Ardent director Friedrich Trautwein said, adding: "If people in the industry think the concept is useful, someone will develop its ideas further."
OGTC external relationship director Stephen Sheal said the organisation was "open to talking" to the IP holders about Archimedes, which he declared a "grand idea" that he would like to test.
Mr Sheal said: "We're quite confident Archimedes could work if we got an opportunity to test it. We hope it will resurrect itself because the UK's decommissioning liability is significant and we need innovative ways to address that."
But he acknowledged Ardent's circumstances had "moved on" after the project was completed and that it would be "really difficult to interject" in what was a "private developer matter".
Due to the signing of non-disclosure agreements, the OGTC can't reveal how much it spent on the project.
But Mr Sheal insisted the organisation's exposure to partners going bust was "limited" and stressed that it did "due diligence" before starting a project to make sure partners were healthy and robust.