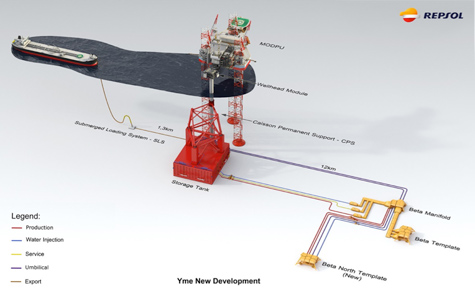 An Aberdeen-based offshore inspection specialist is celebrating the completion of a project in the North Sea.
Aisus Offshore, based in Bridge of Don, hopes its biggest project to date – involving work on Repsol's Yme oilfield about 60 miles from the Norwegian coast – paves the way for other overseas work and an increase in headcount.
Aisus – part of energy services group Valor – currently employs 15 people but hopes to recruit more in line with overseas growth. Its services are in demand in locations including Australia and Qatar.
Managing director Andrew Mitchell said: "Not only is this (Repsol contract) the largest project completed by Aisus to date, but it highlights that our expertise can be harnessed regardless of location.
"Increased demand for our services internationally proves that our reputation for operational excellence is growing."
The value of Aisus' deal with Repsol was undisclosed. The Yme field was initially developed by Statoil from 1996 to 2001 and is now being redeveloped by Repsol Norge.
Recommended for you

Hydrogen: Nine projects to watch out for in north-east Scotland