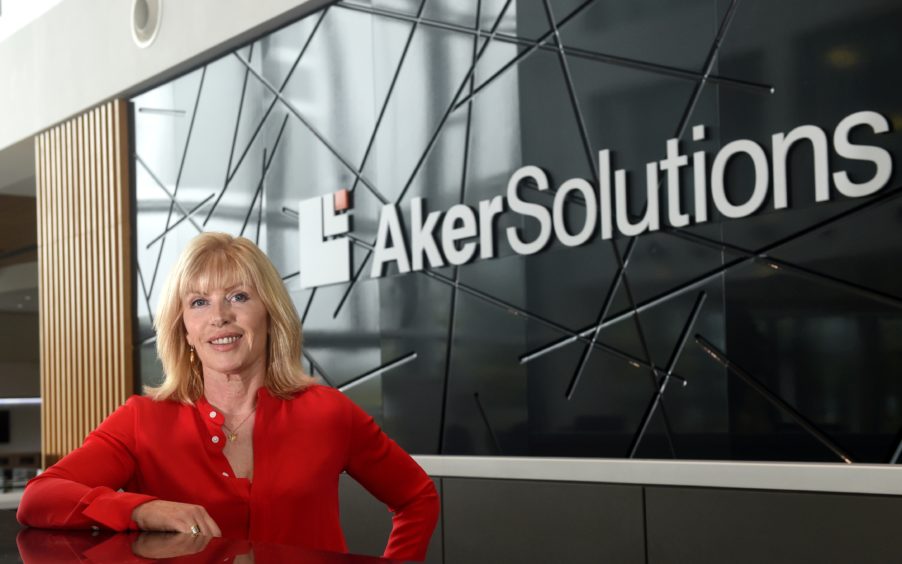 The UK head of Aker Solutions has called for more "clarity" over how North Sea supply chain firms will fit into the energy transition.
Sian Lloyd Rees, UK country manager and SVP of customer management at Aker Solutions, said the sector needed "clearly stated goals and ambitions" in order to contribute "significantly" to new oil and gas carbon reduction plans.
But Ms Lloyd Rees, a member of the panel during yesterday's Oil and Gas UK (OGUK) supply chain webinar, also insisted UK supply chain firms have an "important voice" and should be part of ongoing energy transition discussions.
She said: "If you look at what we've contributed in the past, we have a voice and capability and we have different mechanisms that we can use to ensure that we contribute significantly to the journey that were all on as part of this energy transition.
"There are multiple stakeholders in this, it's the oil and gas operators, other developers and the government, so we have a really important voice both in terms of technology innovation services, but also in terms of job creation and preservation and having a strong economy in the UK that we can use for export potential."
The Aker Solutions boss was joined on the panel by OGUK's emissions improvement manager, Louise O'Hara Murray, Nick Clark, director at energy consultancy Deloitte, and Stuart Young, strategic markets development manager for ABB.
Mr Young agreed with Ms Lloyd Rees that the sector needs work collaboratively to provide an "easily adopted solution" to help meet the planned 50% reduction in emissions by 2030.
Ms Lloyd said the supply chain had the solutions and services able to drive the oil and gas industry to a lower carbon environment – but added that the sector needed "clarity" on how it fits in.
She added: "Our solutions are applicable to oil and gas and they're applicable to what we're trying to do, particularly as we look to decarbonisation.
"What are the plans of the operators and what is the government doing?
"But also we're asking a section of the industry that is quite battered from the downturn to lift its head up above survival to look at how it drives forward into the future.
"Leadership, clarity, assistance and pace is what's needed."
Recommended for you

Sian Lloyd Rees joins board at NZTC