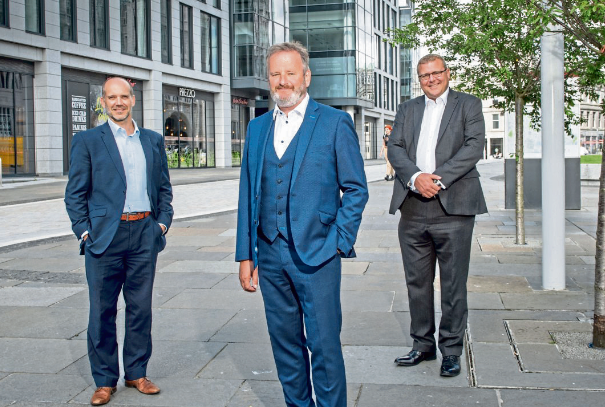 Two senior tax professionals have joined the Scottish tax team at EY in the latest announcement of growth and investment by the professional services firm.
Today, EY in Scotland welcomes Moray Barber to the firm as a tax partner based in Aberdeen who will primarily serve the energy sector.
Mr Barber was previously with KPMG in the city and has more than 20 years of experience supporting clients with tax issues across a diverse range of sectors, predominantly oil and gas.
His appointment follows that of Duncan Reoch who left Deloitte to join EY as associate partner in March to lead the Scotland Private Client team within EY Private practice.
He manages this team across the firm's four offices in Scotland; Aberdeen, Edinburgh, Glasgow and Inverness providing both personal and corporate tax services.
Derek Leith, EY's managing partner in Aberdeen, said: "The appointment of Moray and EY's tax practice is a boost for our clients based in Aberdeen and the north east. EY has a strong brand in the local market maintained by a large and experienced tax team.
Moray will bring fresh ideas and impetus with a particular focus on entrepreneurial businesses which will enable us to broaden our service offering. It is important to me that Moray is able to make his mark on our business so he will lead the tax practice in Aberdeen and compliment me in in both my office managing partner and global oil and gas tax sector roles.
"I am also delighted that Moray shares my passion to see the north-east economy adapt and diversify to embrace the economic opportunities of the future. Oil and gas will continue to have a vital role to play in the local economy but the requirements to decarbonise production facilities and the wider transition to sustainable sources of energy present opportunities for the service sector that must be capitalised upon. I am pleased that at a time when the north east economy is facing a slow recovery from another downturn in oil price that EY is able to demonstrate its commitment to continuing investment."
Originally from Aberdeen, Mr Barber returned to the city in 2004 after starting his career in Edinburgh and is passionate about his home city, holding several local public roles spanning arts, society and business. He is the chairman of Castlegate Arts, is a Burgess of the City of Aberdeen and is on the Aberdeen & Grampian Chamber of Commerce's policy council as well as being part of its Vanguard initiative.
Mr Reoch has more than 20 years of experience as a private client tax advisor.
The Aberdeen appointments come a few months after EY announced its move to 2 Marischal Square as part of what the firm describes as its continued investment in the city.
Recommended for you

X-Academy expands senior leadership team alongside second cohort kick off