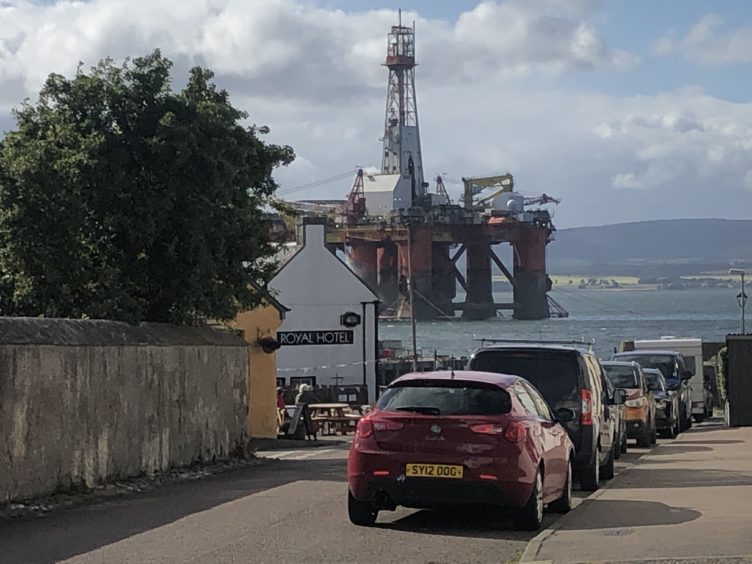 A Cromarty Firth boss has replied to rising oil rig noise complaints, saying residents "have chosen to live on the shores of a busy, industrial port".
In a letter to Highlands and Islands MSP Kate Forbes, the port's CEO Bob Buskie defended the rising number of rig arrivals, which residents have described as "blighting" the region.
He highlighted the economic, social and environmental benefits of the vessels, including job creation and supporting Scotland's offshore wind sector.
Mr Buskie also pointed out that the Cromarty Firth has a long history of hosting the oil rigs, arriving in greater numbers now due to the downturn.
He said: "This issue is raised regularly by residents of Cromarty, despite rigs being a feature in the Firth for over 45 years.
"In 2014, we celebrated 40 years of this activity. After 40 years and 700 rig visits, the people who live here know that they have chosen to live on the shores of a busy, industrial port."
The firth has gained a reputation as one of the "leading ports in Europe for oil rig inspection, repair and maintenance and subsea project work" due to it hosting the vessels, he added.
It comes as freedom of information statistics revealed nearly 20 complaints over the course of June, compared to just five to Highland Council in the 10 months prior.
The "significant number" of new arrivals are the result of the oil downturn, with exploration and drilling activity substantially reduced.
Several Cromarty residents have made complaints about the vessels causing light and noise disruption, with local councillor Craig Fraser describing the port as an "oil rig graveyard".
Ms Forbes sent the letter in light of the complaints around the Cromarty Firth.
In his response, Mr Buskie pointed out that the sand and stone seabed off Cromarty is more suitable and safer for these vessels, compared to the firth near Invergordon which is mainly comprised of mud and silt.
He added that several rigs are due to depart over the summer months, while most operators choose mooring sites than have been safely used in the past.
In his letter, sent last month, he said there were six rigs stationed around Cromarty, while residents reported a total of 14 overall in the firth at the time.
Mr Buskie said: "We are not permitted by law to refuse entry to vessels justifiably wanting to take refuge in our port; nor would we want to do so, as these vessels, when reactivated, will create much needed work for local people and safeguard local jobs.
"We also take local concerns, including potential noise disturbance, into account wherever possible and a number of rigs have implemented measures such as baffles and deck generators in recent years, in order to mitigate these concerns."
Ms Forbes's office said she will continue to monitor the situation going forward.
Recommended for you

Huge investment at Port of Cromarty Firth may swell to £330 million