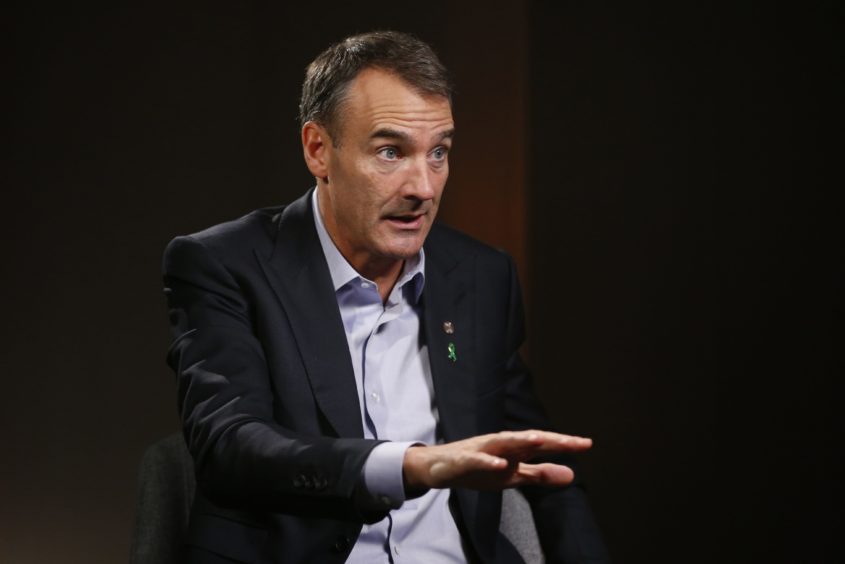 BP's chief executive Bernard Looney has said oil and gas would be a "smaller, but core part" of the business as it "pivots" to net zero.
Mr Looney said BP's oil and gas production would drop by 40%, or 1 million barrels of oil equivalent per day (boepd), over the next 10 years.
But he described hydrocarbons as an "engine of value creation" that would help pay for BP's transformation from an international oil company to an "integrated energy company".
A former UK North Sea boss at BP, Mr Looney also said that while the company was targeting divestments of £19 billion by 2025, he was "not in a rush" to sell assets and would take time to find "value".
BP has sold stakes in a number of North Sea oilfields in recent years, including Bruce and Magnus, with Andrew soon to follow.
At the same time, BP has invested billions of pounds in the Schiehallion and Clair fields, west of Shetland.
Mr Looney's comments came after BP published its first-half results, which showed a huge losses, and announced it was cutting its dividend in half to free up cash for low carbon investments.
Unveiling its strategy, BP pledged to slash fossil fuels production and reduce emissions from its operations by about a third in 10 years.
It will invest 10 times more in low carbon technologies like hydrogen and carbon capture, taking it to £3.8bn a year.
BP also aims to have developed around 50 gigawatts of net renewable generating capacity, a 20-fold increase from 2019 levels.
The plans were well received by investors, with BP's share price rising by more than 5%.
Mr Looney said BP was moving "earlier, faster, further and more decisively" on its strategy.
The Irishman acknowledged BP was "in a different place" because of Covid-19, but is "convinced" the net-zero direction he chose after taking up the reins in February was the right one.
Luke Parker, of energy research and consultancy firm Wood Mackenzie, said BP had brought its transformation "to life" by providing the "clearest and most detailed roadmap" of all the oil super majors.
Staunch critics won over
BP's new strategy appeared to win over some of the company's most staunch critics.
Mark van Baal, of activist shareholder group FollowThis, said BP had become the first oil major to "walk the walk" after pledging to let its oil and gas production fall by two-fifths by 2030.
Mr van Baal, whose group puts pressure on oil firms to decarbonise, said BP was showing a sense of "urgency and imagination", unlike its peers, who were "just offering ambitions for 2050".
However, the Dutchman did take issue with BP's vow not to explore for oil and gas in countries where it didn't already have a presence.
Mr van Baal said BP had operations in many countries and that "all exploration must cease" if Paris climate goals are to be reached.
Greenpeace, which has disrupted BP annual general meetings and offshore projects in recent times, also seemed mollified by the strategy update.
The protest group said BP had "woken up" to the immediate need to cut carbon emissions this decade."
Mel Evans, senior climate campaigner for Greenpeace UK, said: "Slashing oil and gas production and investing in renewable energy is what Shell and the rest of the oil industry needs to do for the world to stand a chance of meeting our global climate targets.
"BP must go further, and needs to account for or ditch its share in Russian oil company, Rosneft. But this is a necessary and encouraging start."
BP said Rosneft was a fundamental part of its portfolio.
One of the toughest quarters
Mr Looney said the second quarter of 2020 would go down as one of the "most challenging" periods endured by the oil and gas industry in its entire history.
BP nosedived to pre-tax losses of £16.5 billion for the three months, against profits of £2.4bn in the corresponding period last year.
The company's figures were badly dented by impairments of £7bn related to lower oil and gas price assumptions and exploration write-offs totalling £1.3bn.
Revenues sank 58% year-on-year to £24bn due to a slump in oil and gas prices, caused by oversupply and the Covid-19 lockdown.
For the first six months of 2020, pre-tax losses totaled £19.9bn, compared with profits of £6bn last year, on revenues of £69bn, down 36%.
Mr Looney said: "BP has seen some tough quarters in its 110 years, but the last one was among the toughest."
During the reporting period, BP announced plans to make 10,000 of its employees redundant, representing a 15% cut to its global headcount.
About 2,000 of the redundancies are expected to occur in the UK, where the firm has 15,000 employees.
On Tuesday, Mr Looney confirmed BP would roughly halve the number of senior leadership positions at the company to 120 in order to become more "agile".
He said BP wanted leaders who had a "track record of delivery" and were "curious, open-minded and not ego driven".
But Mr Looney said the challenges thrown up by Covid and the price rout had only made BP "more determined" to reinvent itself.
"There's no turning back," he said. "We want to change and our shareholders want us to change."
The boss also said the energy transition was a huge opportunity to create value and make BP a "better company".
BP would not be "starting from scratch", he said, pointing to earlier investments in companies like solar developer Lightsource and electric vehicle charging firm Chargemaster.
Mr Looney said the decision to cut the dividend to 5.25 cents (4.01p) was "rooted in" the company's new strategy and "amplified by Covid".
His predecessor, Bob Dudley, raised the dividend by 2.5% in his last act at BP in February, before the pandemic struck.
Wood Mackenzie's Luke Parker described the dividend cut as "prudent".
Recommended for you
X

Eskom moves to claw back cash from Guptas