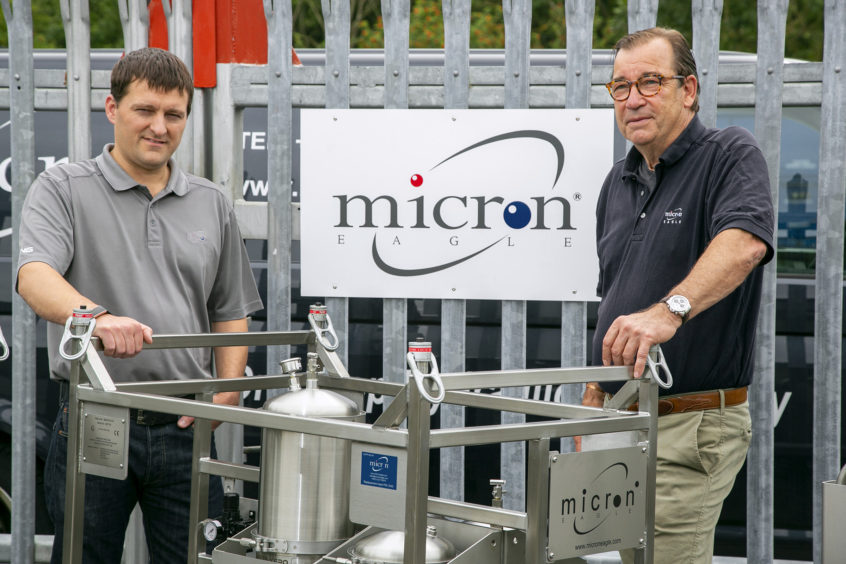 The managing director of a north-east hydraulics firm has shifted to the chairman role so that he can take a "broader view" of the business.
Andreas Nagel, 67, intends to guide the strategy of Micron Eagle Hydraulics, which he founded in 1990, from his new position.
Mr Nagel is confident that the firm, based in Blackburn, near Aberdeen, now has the right management team in place to go to the "next level".
The German will be replaced as managing director by Ian Gibson, who joined the company in 1999 and most recently held the operations director post.
Mr Nagel's son, Henry, who is based at the firm's facility in Houston, is joining the board, which has almost 190 years of experience.
Other board members include Mr Nagel Sr, Mr Gibson, business development director Mark Burnett, technical director Angus Mitchell, finance director Karen Henderson and non-executive director Neil Grimmond.
Mr Nagel Sr said he was "extremely positive" about the future of Micron Eagle, which employs 23 people and turned over £4.5 million last year.
He said: "Having the right team in place has allowed me to take a broader view of the business as chairman after 30 years as managing director.
"We have first-rate people in place, from the technical and operations side right through to sales. Ian is definitely the right man for the job."
Mr Gibson said: "We have an excellent team here and a respected track record. We aim to build on that as we work together to take the business to the next level. I'm delighted Andreas has entrusted me with this opportunity to lead Micron Eagle."
The company is active in the hydraulics services, maintenance, repair and rental markets and has worked on projects in the UK, Europe, West Africa, South East Asia, North America and South America.
It has clients in the energy, marine, agriculture and power generation sectors.
Micron Eagle also owns part of Delta-Xero, a Hampshire-based fluid decontamination systems maker.