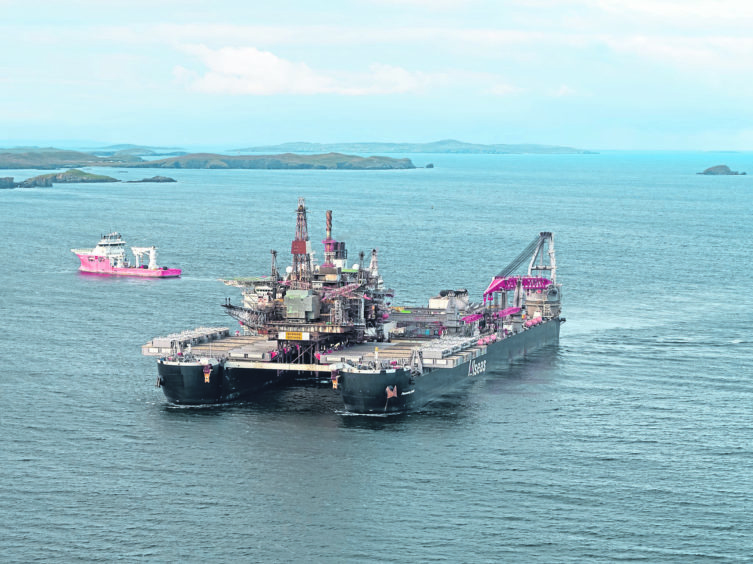 The largest offshore structure to date to be decommissioned at Lerwick has arrived in Shetland.
The 14,200-tonne Ninian Northern platform topside was transported 88 nautical miles to the port on the world's largest construction vessel, the Pioneering Spirit.
Its arrival marked the inauguration of a new heavy duty decommissioning pad, developed by Lerwick Port Authority (LPA), at Dales Voe Base.
LPA boss Calum Grains said the project was a welcome boost.
He said: "The arrival of the Ninian Northern topside at our Dales Voe Base is a welcome boost to activity in Shetland amidst the Covid-19 downturn and another very important stage in the development of Lerwick's reputation as an active, leading centre for decommissioning.
"The pad is a significant addition to our unique quayside infrastructure, not only as a catalyst for handling larger offshore structures, but also in attracting the interest of the renewables sector for future projects, particularly floating offshore wind developments.
"The scale of the topside, the single-lift delivery and the infrastructure already in place adds weight to the widely-accepted case for Lerwick to be the location of an Ultra-Deep-Water Quay in the UK for even bigger projects in the competitive international decommissioning and renewables industries. The proposal has strong Government and industry support."
Recommended for you

Allseas lands contract to remove EnQuest Heather platform topsides