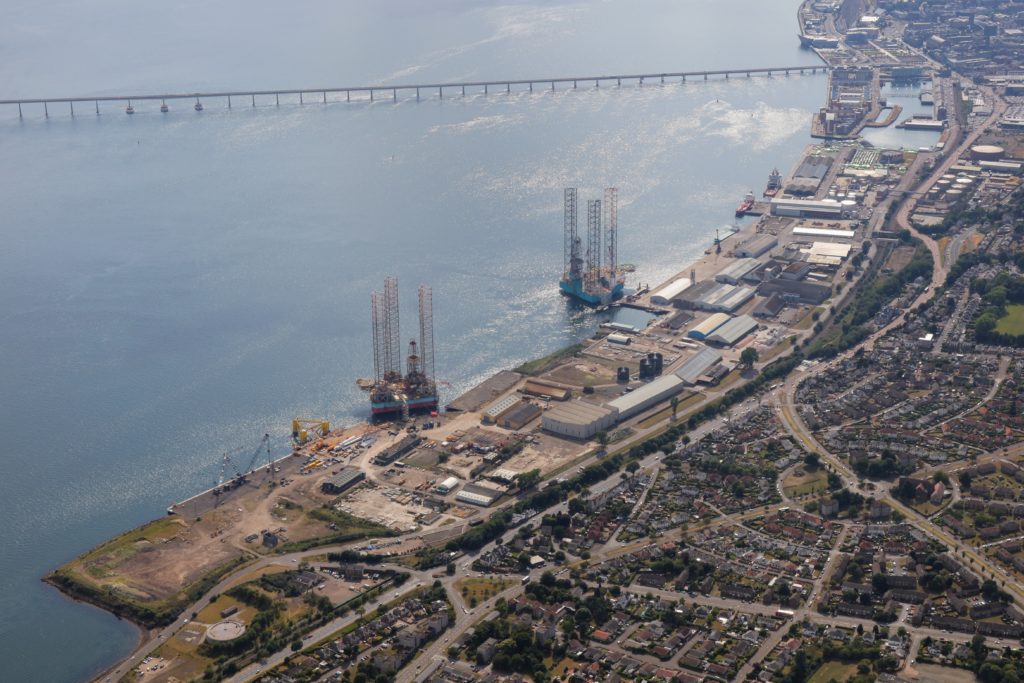 The owner of the Port of Dundee is preparing a bid to obtain freeport status in a move that could bring millions of pounds of investment and hundreds of new jobs, The Courier can reveal.
Forth Ports is in discussions with Dundee City Council about a "serious" bid to be selected as one of the new freeports proposed by the UK Government.
Freeports allow firms to import goods and then export them outside normal tax and customs rules and have been highlighted as a post-Brexit tool to encourage economic activity.
Charles Hammond, chief executive of Forth Ports, said there was huge potential for investments and jobs creation and made a "call to action" for the city to get behind the bid at yesterday's Courier Business Briefing in association with Fairways.
He said: "Freeports are about creating zones where it's much easier to do business and to attract inward investment – they really are a regeneration tool.
"There will be initiatives like capital allowances, tax allowances and grants for innovations.
"We have already taken the lead on this and have launched a joint bid for freeports in the Thurrock area.
"Thurrock is one of the more deprived areas in the south and levelling up is an important theme, giving people the chance of work and learning new skills.
"I think that levelling up theme is also important for Dundee in the Scottish context.
"We are looking extremely seriously about launching a freeport bid for Dundee."
International trade secretary Liz Truss has proposed creating up to 10 freeports in the UK which could help avoid tariffs in the case of a no deal Brexit.
Companies operating within freeports can defer paying taxes until their products are moved elsewhere, or can avoid them altogether if they bring in goods to store or manufacture on site before exporting them again.
Mr Hammond added: "Today I'm issuing a call to action for the city and its stakeholders to get behind us to make this a reality, to make this happen.
"Get behind us and give us a positive reason to give Dundee a freeport zone, not just covering the port but perhaps also covering the Michelin Scotland Innovation Parc, covering industrial land and perhaps covering R&D in the universities as well."
Mr Hammond was joined for a question and answer session by David Webster, senior port manager at the Port of Dundee, John Casserly, SSE's head of procurement and commercial services, and Dundee City Council leader John Alexander.
Mr Alexander said Dundee City Council was already in discussions with Forth Ports about the bid.
He said: "The city council is always full square behind the port in terms of looking at any opportunities that might generate investment and jobs and create a really vibrant future for the Port of Dundee.
"The freeport initiative is a really interesting idea and it has potential benefits more broadly for the city.
"We are exploring how we can bring that to fruition and make sure the benefits are felt across the wider industries.
"We want to explore how that scheme can be extended to other sites. Could it include for example the Michelin Scotland Innovation Parc or the Claverhouse Industrial Estate which has been earmarked for this type of work in the future?
"My officers are working with Forth Ports to develop the thinking on that. That conversation is already under way."
The Courier Business Briefing was held virtually after the planned live event was cancelled earlier this year.
Liz Jackson, managing director of Fairways, said: "While Tayside businesses have many challenges facing them at the moment, it was immensely encouraging to hear about the significant and major investments in the city and obtaining a great insight into the views and plans for the future across Tayside at the Courier Business Briefing event yesterday.
"As business leaders we should all take that encouragement forward positively as we continue our journey from good to great."
The Courier Business Briefing can be watched here
Recommended for you

Ineos declares support for Forth Green Freeport bid