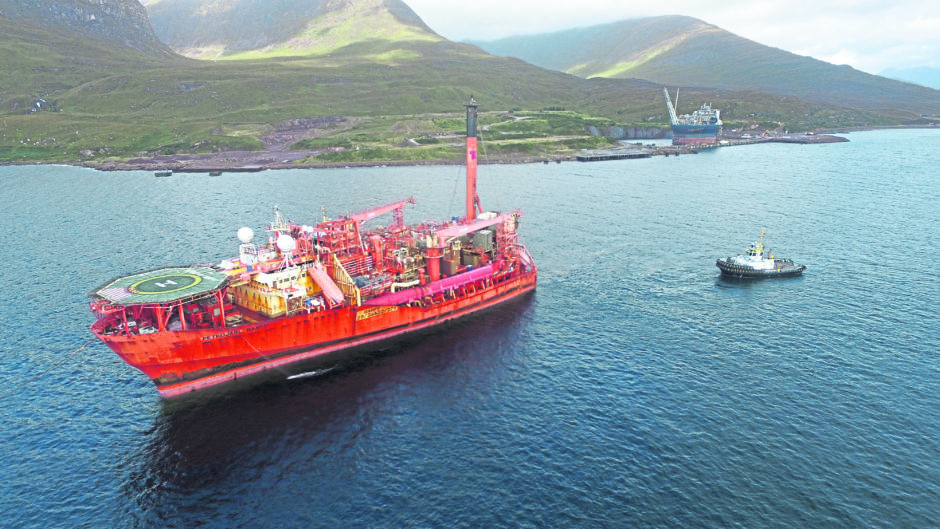 Managers at Kishorn Port (KPL) have hailed its third significant contract of the year, after the arrival of the Banff floating production, storage and offloading vessel (FPSO) for temporary mooring there.
The 390ft-long FPSO, owned by Teekay, is due to remain at the north-west Highland facility until the Bermuda-based shipping company selects a suitable location for it to be dismantled.
KPL director Colin Ortlepp said: "We're pleased Teekay has chosen Kishorn to moor the Banff FPSO.
"This is the port's third significant project in 2020, following on from the downsizing and recycling of the casualty vessel the MV Kaami and the ongoing preservation of the Voyageur Spirit FPSO."
During its stay in Loch Kishorn, port services and support will be provided for it by KPL partners Ferguson Transport and Shipping.
Jack Ferguson, operations director of the firm, based in Corpach, Lochaber, said: "We very much look forward to providing Teekay and its partner Altera Infrastructure with marine logistics and support services while she remains with us in the port."
Built in 1997, the FPSO was based at CNR's Banff and Kyle fields in the central North Sea, around 118 miles off Peterhead, during its working life. Over the past three months, Teekay has carried out an extensive offshore decommissioning programme on the vessel and its associated systems.
The work included cleaning, flushing and disconnecting it from subsea infrastructure in preparation for its departure from the field.
A month ago KPL announced it had secured its first oil and gas contract of 2020 after its dry dock was chosen for Semco Maritime to carry out work on Altera Infrastructure's FPSO Voyageur Spirit.
The cargo ship Kaami was taken to Kishorn for decommissioning after running aground in the Minch in May.
The trio of contract wins follows significant investment over the past five years to recommission the dry dock, which is the largest of its kind in the UK and to upgrade other facilities at the port.
A major construction site during the 1970s oil boom, the port lay largely dormant for 20 years before KPL, a joint venture between Ferguson Transport and quarry firm Leiths, secured permission for redevelopment in 2013.
Recommended for you

Watch: Voyageur Spirit FPSO leaving Scotland after three year stay