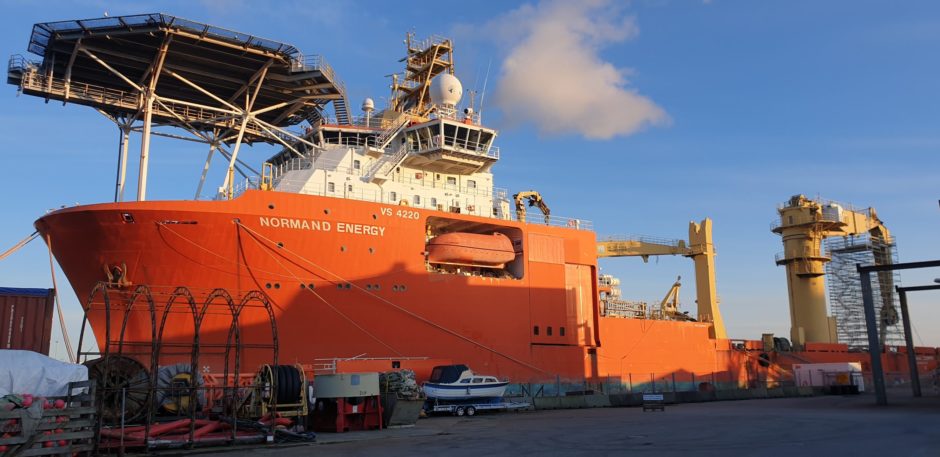 The crew of a Norwegian ship stationed in the Cromarty Firth near Invergordon are being quarantined after a Covid-19 cluster broke out on board.
Three crew members of the vessel, understood to be the Normand Energy, tested positive for the virus earlier today and have been taken to an isolation facility in Aberdeen.
The remaining crew of the Solstad Offshore ship are being kept on board until further notice.
Meanwhile all shore leave was stopped prior to any of them leaving the Invergordon Service base, according to the Port of Cromarty Firth.
NHS Highland and the Port said there is no risk to the wider community.
A Port spokesman said: "Following instructions from the Highland Council's Port Health Authority and NHS Highland, these individuals have been safely removed from the vessel and transported directly from the service base to a secure isolation facility in Aberdeen.
"The remaining crew are safely quarantined aboard the vessel and are being Covid-19 tested today by an accredited contractor. The contractor will be following strict Covid-19 secure protocols, including the use of extensive PPE."
Solstad Offshore's Aberdeen office refused to comment when contacted by Energy Voice.
Dr Tim Allison, NHS Highland's director of Public Health, said: "NHS Highland is aware of a vessel docked in Invergordon in which a small number of crew have tested positive for Covid-19.
"NHS Highland's Health Protection Team is working with Environmental Health Officers in Highland Council and all relevant partner agencies to ensure the safety of all the crew on-board. There is no risk to the wider community."
Recommended for you

Huge investment at Port of Cromarty Firth may swell to £330 million